Greeting cards inspired by Chinese architecture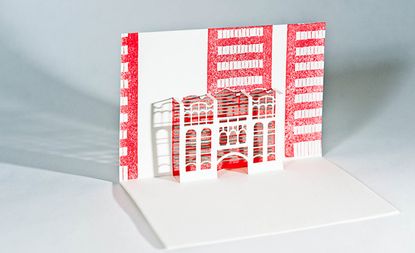 (Image credit: Designer Tereza Hradilkova)
Designer Tereza Hradilkova gives snail mail a decidedly modern edge with her innovative interpretation of the classic pop-up card. Her intricately crafted greetings offer whimsical laser-cut reflections of South China cityscapes, from Hong Kong's iconic skyline to Macau's traditional landscape.
Trained as an architect, Czech-born, Hong Kong-based Hradilkova says her 'Porigami' creations were inspired by visits to Japan. 'The fabrics, stamps and paper art are simple but beautiful - especially the paper-cut works of Masahiro Chatani,' she says. She came by the word play in the name rather fortuitously: '"Pori" is my nickname and "gami" means paper in Japanese.'
The delicate structures are brought to life by vivid red architectural elements. Sophisticated details add further intrigue: in one card, a tram set against a city block captures Hong Kong's unique blend of old and new; ditto an elegant tower clad in minutely detailed bamboo scaffolding.
Each set of nine cards - available from the Sidewalk store in Hong Kong (HK$400) and the Sidewalk website (opens in new tab) - is printed on recycled card stock. Hraoilkoua also offers a larger, special-edition 'Year of the Dragon' card in time for Chinese New Year, designed with hand-carved stamps and her trademark bold red ink (HK$60). Or you can have her customise a design to your specifications.
ADDRESS
Sidewalk
4 - 6 Gough Street
Central
Hong Kong
VIEW GOOGLE MAPS (opens in new tab)