Future perfect: Singapore as a smart nation of tomorrow's world
British innovation lab FutureEverything touches down in Singapore, curating the country's first art and technology festival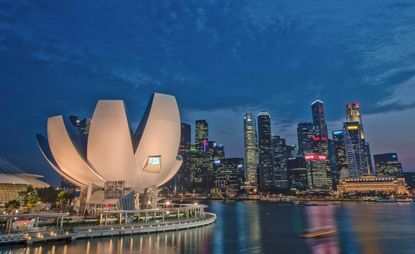 (Image credit: press)
If you were in Singapore last week, chances are you may have found yourself in conversation with one of the city's many landmarks. Perhaps the Merlion asked you what might grow in the gardens of the future ('the flowers of the past,' we replied knowingly), or you texted the Esplanade about the last time that you spoke with a stranger.

It may sound like a science fiction plot gone awry but was, in fact, part of a playful project by London-based Pan Studio (opens in new tab) that brought the city's street furniture to life. Entitled Hello Lamp Post (opens in new tab), it was just one of many interactive urban experiments showcased recently at FutureEverything, a citywide art and technology festival exploring the social impact of digital culture.

As designers, artists and futurists descended on Singapore for the festival – the first of its kind in the city – they were treated to a jam-packed programme that included an innovation lab, citywide art and design installations (including a public sleep laboratory), culminating with a conference at the ArtScience Museum.

It's been quite a journey for Drew Hemment, the founder and CEO of UK-based FutureEverything (opens in new tab). What originally began as a digital culture festival in Manchester in 1995 ('We had only planned to do one,' he quips) has since evolved into an innovation agency, supporting a new wave of digital artists, commissioning public works, building infrastructure and even affecting government policy.

'Curatorially, the driver was always social change surrounding technology,' explains Hemment. To wit, the second international edition of the festival (following a soujourn in Moscow last year) focuses on a Singaporean notion of the Smart Nation (opens in new tab). Similar to a smart city but extended to a countrywide scale, it's an ambitious concept that the young country is hoping to shape as more than just a government concept.

'We bring design to different places,' says Hemment about the first concerted effort to introduce bottom-up culture to Singapore. It's not that Asia lacks creative fuel by any means – a reputation perpetuated by its opaque governments and a perceived sense of censorship – but more that its artists and makers are in need of a creative platform to reach a global audience.

FutureEverything's inaugural Asia edition forges a new path, and carefully bridges Europe's creative flair with the East's technical prowess. The festival came to a climax with a daylong conference, themed Signals of Tomorrow, which brought together an interesting panel of local and international speakers (opens in new tab).

Technology critic Sara Watson (opens in new tab) kicked off the proceedings with a dystopian but not entirely implausible anecdote of a fictional network of interconnected smart objects gone rogue (think a misdiagnosed pregnancy by her smart fridge). Alexandra Deschamps-Sonsino (opens in new tab), meanwhile, challenged how many times product designers could solve the problem of chairs; Scott Smith (opens in new tab) emptied his pockets to imagine the wallet of the future (complete with a modified Oyster card (opens in new tab)); and futurist Aaron Maniam (opens in new tab) spoke of the democratisation of information through technology.

The festival concluded with a showcase of the Signals of Tomorrow Innovation Lab, which saw art, design, and technology practices contemplate what the future for a Smart Nation would hold. The resulting prototypes from the four-day workshop were exhibited at the ArtScience Museum, and the winning project by Daniel Hirschmann (opens in new tab) is to receive further funding ahead of the next FutureEverything outing in February next year.

Hemment and his motley crew of digital movers and shakers have cast a large stone into unchartered waters; only time will tell how far the ripples will travel.
INFORMATION
FutureEverything Singapore ran from 10 until 18 October 2015. The next edition of FutureEverything will take place in Manchester in February 2016