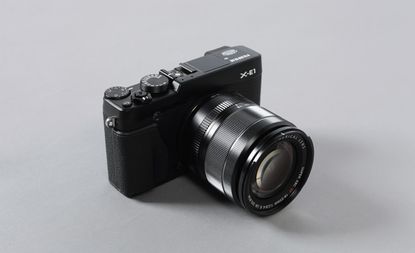 (Image credit: TBC)
Since the launch of the FinePix X100 in 2010, Fujilfilm has been on a roll. There is now a family of X-series compact and 'compact system cameras' - covering various price points and capabilities - with almost all boasting the same rugged construction and expertly handled 'retro' design, recalling classic rangefinders.

The styling would count for little if the cameras didn't perform but the X family has quickly built a reputation for high quality images and handling. The latest edition to the range is the X-E1, a slightly slimmed down, size and price wise, version of the excellent X-Pro1 but promising the same image quality.

The X-E1 features the same 16 megapixel APS-C X-Trans CMOS sensor as the X-Pro1 as well an electronic view finder and built-in flash, and is compatible with three of the XF Fujinon lenses.

One of the reasons enthusiasts loved the X-Pro1 and will love the X-E1 are the handsome, milled mode dials for 'dialing in' settings in the old fashion way rather than drilling through complex on-screen menus. But the key selling point of this sort of camera is that it does the job of a decent digital SLR, even in low light, but without the bulk and with better looks.
The X-E1 may be a slimmed down version of the excellent X-Pro1, in terms of size and price, but it doesn't compromise on image quality or functionality
It features the same 16 megapixel APS-C X-Trans CMOS sensor as the X-Pro1, as well an electronic viewfinder and built-in flash
The handsome, milled mode dials for 'dialing in' settings allow users to operate the camera the old fashion way, rather than drilling through complex on-screen menus