Firmship FS 42 by Studio Job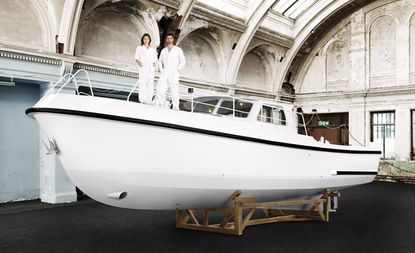 (Image credit: press)
Antwerp-based Studio Job has a long-held aversion to the notion of 'function' in design. In the making of its flamboyant creations for the likes of Moooi, Bisazza and Royal Tichelaar Makkum, any resulting 'usefulness' is incidental. So it's somewhat surprising to find it taking on a boat - a piece of precision engineering, in which ornamentation is usually far subordinate to practicality. But when Moooi founder Casper Vissers invited founders Job Smeets and Nynke Tynagel to tackle his own personal vessel, it was an offer they couldn't resist.
'The guys in our studio were thrilled that they could finally work on something with a functional aim,' says Smeets. 'If it was up to us, we'd keep the boat on a pedestal far away from water - but it isn't and now it is somewhere off the coast of the Netherlands.'
A personal friend of the designers and a big collector their work, Vissers was simply after a vessel that he could use with his family - thoughts of turning Firmship into a fully-fledged brand came later. He approached the designers with just the 42 ft shell of the boat, created by nautical architect Willem Nieland.
The brief for the interior was to create an extremely comfortable space, instilled with a sense of luxury that is warm and inviting, rather than obtrusive - or not 'Victoria Beckham luxury', as Smeets puts it. To that end, the studio has used teak for doors, outdoor furniture and indoor fittings, finished so that the grain of individual planks is seamlessly joined, and the customary cheap plastic used in nautical architecture is swapped with Corian.
Room to move on board the Firmship FS 42 was a concern for Studio Job, but the designers never intended to make it a model of space-efficiency - 'multi-functional furniture can be so clumsy,' says Smeets. And by coating the boat in a fresh shade of grey, specific to 1950s Dutch industrial buildings - from the railings and sundeck, all the way to the throttle - the designers gave themselves that all-important scope to play with ornamentation without overwhelming the space.
This ornamentation comes in the form of classic seafaring iconography, which the pair have given a typical Studio Job twist. Motifs of anchors, Moby Dick and a skull and cross bones are thrown in with barbed wire, insects and skeletons. These appear on everything from upholstery and bed linen to door handles and the steering wheel, as well as that Studio Job staple: a stained glass window.
Plans are now under way for a 60 ft version of the vessel - the second venture of the fledgling Firmship brand. Founded by Vissers, with Smeets and Tynagel acting as art directors, there's a distinct sense that the company is about friends having fun, rather than creating cutting edge feats of nautical design. Says Smeets: 'We have merely launched the blueprint of a company - the product is still to be cooked up. We're not putting it on the market in a brutal way. We're just indulging a passion for boats.'
Receive our daily digest of inspiration, escapism and design stories from around the world direct to your inbox
Malaika Byng is an editor, writer and consultant covering everything from architecture, design and ecology to art and craft. She was online editor for Wallpaper* magazine for three years and more recently editor of Crafts magazine, until she decided to go freelance in 2022. Based in London, she now writes for the Financial Times, Metropolis, Kinfolk and The Plant, among others.