Little scrubbers: Tincture's luxurious and ethical cleaning products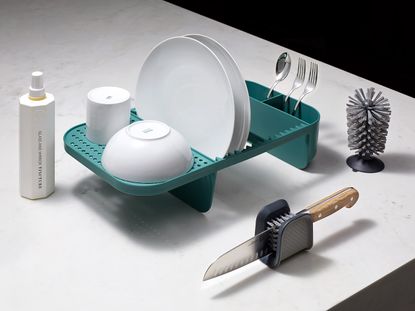 (Image credit: Benjamin Swanson)
Self-styled 'perfumer curator' Anastasia Brozler has been involved in the development of a number of British fine fragrance brands, including Union and Illuminum. Formerly the head of marketing in Europe for L'Oréal and Estée Lauder and founder of bespoke fragrance house Creative Perfumers, she has steadily built up her reputation behind the scenes as a formidable force in the fragrance industry.

On the surface, Brozler's latest project may seem an unlikely departure from the fine fragrance world, but in the context of product innovation it is a logical step. Teaming up with her sister Angelika Davenport, who brings a PhD in business and economics alongside an extensive background in finance to the partnership, the sisters are launching a luxury new cleaning concept – Tincture.

Driven by a desire to elevate commonplace household items into luxurious cleaning tools, the Tincture range succeeds at being family-friendly and functional without compromising on tasteful design. Tincture blends essential oils and botanic ingredients with antiseptic properties. Its inaugural offering eschews the use of harmful chemicals that exacerbate common conditions such as asthma, while boasting to be the first brand to incorporate silver technology into its formula and dispensers to prevent the spread of bacteria.

Manufactured in Norfolk, Tincture is also homely in its heritage and ethics, advocating environmental awareness through sustainable sourcing and biodegradability. Many of the natural ingredients are sourced locally – a nod to the enduring quality of the British manufacturing industry.

Tincture exudes cleanliness in every sense of the word, through its minimal design, production methods and impact on wellbeing – certainly, the brand will scrub up well.
INFORMATION
For more information, visit the Tincture website (opens in new tab)