Econogo Yogo electric scooter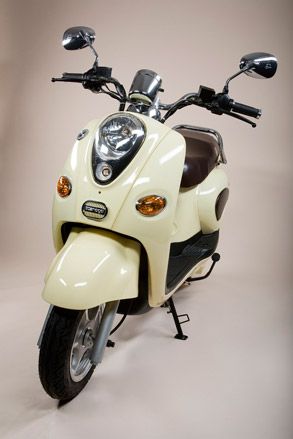 (Image credit: press)
When British entrepreneur James South won megabucks on the poker table he headed straight to China to buy an electric motorbike. Finding a dearth of models to choose from, he decided to sink his fortune into creating Econogo -- his own brand of electric scooter.
Two and half years on, having toured hundreds of small parts factories in China, South's first model, the Yogo has just launched in the UK. With its retro styling and bespoke options for bodywork finishes, it has all the charisma of a Vespa, but comes with a removable lithium battery which lasts up to two hours before needing a charge.
South deliberately wanted the battery to be portable, so drivers can remove it and charge it anywhere, just as they would with their mobile phone, rather than rigging up an extension lead to the mains.
The fact that the battery can be removed when you park also stops joy riders in their tracks. Retailing for £2,299, the Yogo comes in two versions - a moped which can hit speeds of 27mph and as a 1500W motorcycle with a 38mph capability equivalent to a 125cc motorbike).
Having created the eco-friendly scooter, South's next step is to work out ways in which it can be disposed of in an environmentally conscious way - with swaps and recycling on the agenda.
With the electric car poised to hit the mass market in the next 18 months, electric scooters are also on the verge of the big time. The Yogo shows that the market is wide open to those who want to help re-shape the future city.
Emma O'Kelly is a contributing editor at Wallpaper*. She joined the magazine on issue 4 as news editor and since since then has worked in full and part time roles across many editorial departments. She is a freelance journalist based in London and works for a range of titles from Condé Nast Traveller to The Telegraph. She is currently working on a book about Scandinavian sauna culture and is renovating a mid century house in the Italian Lakes.