Breaking the mould: Audi reveals ninth-generation A4 saloon and avant models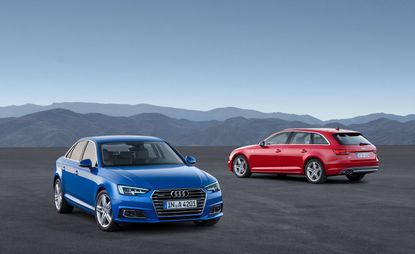 (Image credit: Audi)
Wallpaper* Newsletter
Receive our daily digest of inspiration, escapism and design stories from around the world direct to your inbox
Thank you for signing up to Wallpaper. You will receive a verification email shortly.
There was a problem. Please refresh the page and try again.
The Audi A4 – especially in the saloon format – is a global product with a diverse customer demographic. What's more, with some 12 million cars sold since its birth in 1972, it's also the company's best-selling model. European buyers are typically business drivers and families, but in regions like China, smart German saloons are prestigious purchases. The new design has had to appeal to a broad group.

We caught up with Audi's exterior designer Frank Lamberty at the company's Ingolstadt HQ ahead of the car's official unveiling at the Frankfurt Motor Show this September. Each Audi product line, Lamberty explains, will now have its own light and grille design, 'for some differentiation within the family'. Audi has spent a good part of the last decade visually uniting its cars. It needed to be universally recognised as a brand – but the next stage is for subtle individual personalities to shine through.

A distinct, pinched line runs the length of the new A4's shoulder, abruptly cutting the smooth metal surface. It makes a bold graphic statement – yet this is not merely fancy decoration. This character element has functional value, incorporating the shut lines on the bonnet at the front and the boot at the rear so they appear invisible.

This precise line redirects the eye away from the car's more functional elements towards its more aesthetic aspects, pulling the viewer's gaze from the serene face and along the sculpted body, to the polished rear. It defines what Audi does so very well: employing design to express precision and refined engineering.

The ninth generation A4's face is punctuated by a modified single-frame grille – an Audi hallmark – that is wider and lower than before, offering a softer expression. The geometric headlights, on the other hand, add a touch of drama (and that's before factoring the optional Matrix LED lamps). Taillights are narrow, with elegant sweeping indicator lights; a subtle nod, perhaps, to the radical jewelled light design the marque took on almost a decade ago. Here, the execution is less showy, more in-keeping with the character of the car.

Lamberty agrees that designing saloon and estate cars can be a challenge, largely as they lack the inherent sex appeal of sportier models or the practicality of crossovers. There isn't an anarchic design statement here – and yet, the longer body and shorter stance, elongated overhang and more pronounced metal work on the body and wheel-arches give both models a confident poise. They appear, Lamberty notes, to be more 'masculine' and 'ready to take to the road'. As a piece of elegant industrial design, the A4 is peerless, ready to slip effortlessly into service across the globe.
Receive our daily digest of inspiration, escapism and design stories from around the world direct to your inbox