Brazilian creatives launch Boteco Brasil: a curated World Cup pop-up experience in London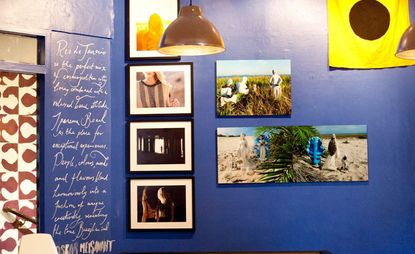 (Image credit: press)
To this summer's burning question of 'Where are you watching the match?' a team of Brazilian innovators has the perfect answer for Londoners: in a former sex shop in Soho. Boteco Brasil pitches up today in London's Charing Cross Road like a mini carnival, complete with HD screens airing every match in the series.

The cultural HQ was orchestrated with backing from the Brazilian embassy, fashion designer Oskar Metsavaht, of the Brazilian luxury brand Osklen (opens in new tab), and Cid Blanco, on a tear since pulling off the country's successful hub during London's Olympic Games, Casa Brasil.
Metsavaht and Blanco are determined to remind football fans (and that includes the fair-weather ones) that Brazil is not only a formidable force on the field, but also in music, food and effortless style.
Two theatre-sized screens will rotate between the sporting action and a programme of Brazilian film, curated by the architect Marcio Kogan (opens in new tab). But they are hardly the focus of the two-storey space. In the first room, the São Paolo-based 'culinary designer' Simone Mattar has created a 'food wall' poked through with skewers of Amazonian delicacies like grilled cassava with beetroot and okra, or pork belly of perfect crispness. Mattar's menu of small bites (like the moreish beef with farofa crumble topped with a fried quail's egg) and peppery stews will be served for the duration.
On each level are makeshift bars plastered with vintage Brazilian posters, where bartenders in bespoke shirts by Brazilian-born Alexia Hentsch (opens in new tab) serve liberally poured caipirinhas - straight up or mixed with watermelon or mandarin. After two of those, you'll hardly mind if your team fizzles out in the first round.
Metsavaht and Blanco recruited the street-artist crew Todo Kanto to graffiti the walls and designer Hugo França (opens in new tab) to consult on the mismatched furnishings. On the walls are works by photojournalist Ratão Diniz and a macabre feathered sculpture by Zé Carlos Garcia. It's a far cry, says Metsavaht, from the 'cheesy Brazilian-themed one-offs' London is used to. 'The caliber of talent,' he says, 'means it will be of the highest quality.'
It's all backed, naturally, by Brazilian beats and the odd spot of live music, transforming this bookish corner of Soho into a temporary barrio. 'The idea is to keep Boteco Brasil constantly evolving throughout the World Cup, so that people return, every time experiencing something new and exciting,' says Bianco.
Tickets start at £40 (for the food/drink programme, minus the football) to £60 for the gamut, including a Brazil or England match.
ADDRESS
Boteco Brasil
Soho Gallery
125 Charing Cross Road
London WC2 0EW