Sweet treats and artful chocolate creations raising the design bar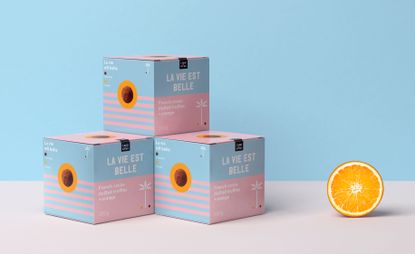 (Image credit: press)
Wallpaper* Newsletter
Receive our daily digest of inspiration, escapism and design stories from around the world direct to your inbox
Thank you for signing up to Wallpaper. You will receive a verification email shortly.
There was a problem. Please refresh the page and try again.
We've been guided by our collective sweet tooth to track down and unwrap the most innovative, good-looking and delicious designer chocolate-based products from across the globe. Try to restrain yourself...
French cocoa dusted truffles, by Lapp & Fao
Linvard Bo Lapp and Emphraim Fao go to great lengths to find the most tantalising ingredients for their unique chocolate creations. Scouring country to country, the chocolatier duo's goal is to realise stimulating new taste experiences – and their new truffle range fully reflects this passion. Flavour combinations such as isigny caramel and crème brûlée burst with originality, whilst classic infusions such as coffee, orange and raspberry prove the power of staple ingredients. Eye candy playful packaging by Studio Chapeaux is as provocative as the treats held within.
Say Hi
Although the cannabis market is still only legal in certain states of the US, the appeal of the herb and its resulting products has spread far and wide. Bringing a curatorial design eye to the burgeoning industry is Say Hi, a digital platform armed with a tasteful assortment of cannabis-related products such as chocolate, to CBD bath bombs, to architectural bongs and pastel coloured ceramic pipes. Founded by Bettina Huang, who previously developed the digital marketplaces of Artsy and Fab.com, Say Hi is designed to change the way people today think about weed. 'I'm committed to debunking the idea that cannabis is a culture of its own, and that it has to be stuck in the outdated stereotypes that most people still think of,' she says. 'Cannabis use doesn't have to involve being high these days. It certainly can, and it's gotten much easier to know how to control that experience and make it consistently enjoyable.' While purchasing from the site is not yet possible due to the current legislature, voyeurs can peruse and save products of interest and then be notified later once those rules have changed. Writer: Pei Ru Keh
Tales of Stockholm
For a new series of chocolate bars, Sweden's Tales Chocolate company asked: 'How can the feeling of a location be translated into a tasting experience?'. Through workshops with people of various backgrounds, each with their own memories and definitions of Gamla Stan (Stockholm's old town), Tales set about designing a tasting experience that defined the core character of the place. Handcrafted in Malmö, the resulting 'experiential' chocolate bar has a lavish, complex character, with a dark roasted start and fruity, mischievous finish that reflects both the city's heritage and its new energy. Visual and tactile sensations are enhanced by its unique design – a sculptural map of the old town. The familiar contours provide a historical narrative while intensifying the refined flavour of the locally produced chocolate.
Chocolate tap, by Kelly Wearstler, for Compartés
Winner of a Wallpaper* Design Award this year, this is the tap we would all like plumbed into our Carrara countertop. Created by interior designer Kelly Wearstler for the flagship store of chocolatier Compartés in Los Angeles, this is one of a pair of gold taps that flows 24 hours with either dark or milk chocolate. The chocolate is oozed into cups of hot chocolate or used as an indulgent coating on the brand's dipped confections, all available at the store's take-out window. Photography: Jonnie Chambers. Writer: Emma Moore
Socio Design
Socio Design was invited to design the packaging for London chocolatier Beau Cacao's first two bars, which looks as good as the geometric chocolate. Packaging colour schemes play off the flavour infusions – red matching the smoky tobacco and paprika flavours of the Asajaya bar, yellow for caramel and brioche profiles in Serian.
Pyramide de Chocolats, by Artisan du Chocolat
A 'statement piece' truly dressed to impress, this six-tier pyramid from Artisan du Chocolat comprises an impressive array of opulent chocolate treats. Couture ganaches, classical truffles, liquid salted caramels, shimmering pearls and moreish chocolate-coated fruits and nuts can be found within the pyramid structure, which can be inverted to create an eye-drawing centrepiece with an appeal that goes beyond the contents found inside.
Receive our daily digest of inspiration, escapism and design stories from around the world direct to your inbox
Melina Keays is the entertaining director of Wallpaper*. She has been part of the brand since the magazine's launch in 1996, and is responsible for entertaining content across the print and digital platforms, and for Wallpaper's creative agency Bespoke. A native Londoner, Melina takes inspiration from the whole spectrum of art and design – including film, literature, and fashion. Her work for the brand involves curating content, writing, and creative direction – conceiving luxury interior landscapes with a focus on food, drinks, and entertaining in all its forms