The story behind the eccentric Times Square yacht drop
Azimut recently manouvered a gleaming, 60 ft yacht into 'The Crossroads of the World' Times Square. But, as Azimut Benetti Group vice president Giovanna Vitelli explains, navigating the sea often proves easier than navigating NYC...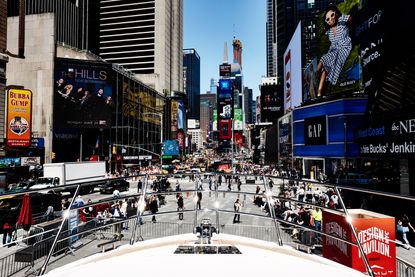 (Image credit: Pernille Loof)
Azimut Yachts has always had a disruptive and innovative character, both in its products and communication. In 2018, it participated in Milan Design Week by placing one of its S7 yachts in front of Palazzo della Triennale (the museum of Italian design; a symbol of art and architecture) which sparked a broader brand initiative referred to as Azimut Staging Places, in which the Italian brand's yachts are placed in unexpected environments.

Turning heads, it recently placed a 60 ft S6 yacht onto one of Time Squares' central-most islands. 'Being the place New Yorkers call "The Crossroads of the World", means being in the symbolic center of the modern world,' explains Azimut Benetti Group vice president Giovanna Vitelli. 'This new form of design expression is consistent with the original choices and codes which have defined Azimut's successful journey throughout its 50-year history.'
But the first time she mentioned the idea to her team, they thought she was joking. 'With our yachts, we can reach any indoor boat show, including those in New York, but driving a truck with a special transport to Times Square is something else entirely!'

Prior to the installation, Azimut had to revise and reconsider the best way in (and out) a number of times; all defined within a very specific timeframe – overnight, by cover of darkness. Due to the sheer volume of the yacht, they even had to remove and then replace some traffic lights. At one point, they had to divide the boat in two pieces, using a crane to re-form them on-site.

Despite rough waters, it was a true spectacle. Complete with full waiter service, serving champagne, canapés and sweets around the clock, accessories provided by Maison Gerard, and a lounge area curated by longtime collaborator and furniture designer Paola Lenti, the experience can only be described as a luxury-design world eccentricity – and there wasn't a Hermès towel or Dedar textile out of place.
The deliberately and dramatically incongruous installation — a seafaring sanctuary rising abruptly out of the sidewalk – was F. Scott Fitzgerald meets Fitzcarraldo. But amidst the spectacle, there was also a deeper wave of meaning at the heart of the project. 'Today, sustainability and blue economy are part of the program of every conscious company,' Vitelli explains. 'For more than a decade, Azimut has been acting with an ecologic attitude, being the first to test and use hybrid propulsions and decreasing the weight of its yachts with a massive use of carbon fiber, thus reducing the fuel consumption up to 30 per cent compared to yachts of the same size belonging to the previous generation.'

The installation was also used as a platform to promote the latest iteration of its design competition, in partnership with international cultural organisation Arts Thread. Together, they are calling for highly innovative projects from transportation and interior designers, asking them to create a new day cruiser. The winner of the competition, which gives equal weight to creativity and use of sustainable materials, will receive an all-expenses paid three-month internship at Azimut headquarters in Avigliana, Italy.
INFORMATION
Elly Parsons is the Digital Editor of Wallpaper*, where she oversees Wallpaper.com and its social platforms. She has been with the brand since 2015 in various roles, spending time as digital writer – specialising in art, technology and contemporary culture – and as deputy digital editor. She was shortlisted for a PPA Award in 2017, has written extensively for many publications, and has contributed to three books. She is a guest lecturer in digital journalism at Goldsmiths University, London, where she also holds a masters degree in creative writing. Now, her main areas of expertise include content strategy, audience engagement, and social media.