Antenne Books: a website for independent titles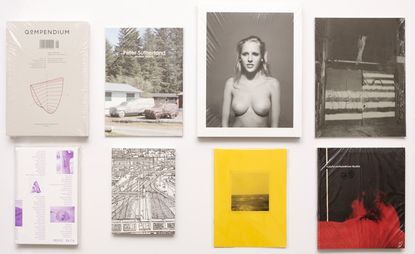 (Image credit: press)
Wallpaper* Newsletter
Receive our daily digest of inspiration, escapism and design stories from around the world direct to your inbox
Thank you for signing up to Wallpaper. You will receive a verification email shortly.
There was a problem. Please refresh the page and try again.
A selection of titles from Antenne Books, including (clockwise from left): Qompendium, Volume 1, published by Lloyd & Associates; Peter Sutherland, 'Muddy Treads', published by Seems; Ryan McGinley, 'Everybody Knows This is Nowhere', published by Dashwood Books; Georg Gatsas, 'Five Points', published by Nieves; Peter Sutherland, 'Smoke Bath', published by Seems; Ingo Giezendanner, 'Baku & Back', published by Nieves; Aslak Gurholt Ronsen, 'Summer of 66', published by Aki Books and Victor Boullet, 'A Joyful Confusion', published by Lauren Monchar.
As you will soon see in our September issue, independent publishers of books, magazines, and fanzines get big respect here at Wallpaper* HQ. So, when photographer and Wallpaper* contributor, Marius W Hansen, set up his website, Antenne Books, dedicated to their wares, we couldn't let it pass by unnoticed.
Hansen teamed up with art director, Richard Hart, to launch the site in July. Its growing catalogue includes an enticing mix of titles, such as photographic essays by Peter Sutherland and Ed Templeton; illustrative works by Ingo Giezendanner; and publications like Home Sapiens Magazine, which explores contemporary domestic living. To give you the best possible feel for these works, Antenne Books helpfully accompanies them with a video revealing extracts from each.
The project was born from Hansen's experiences distributing titles by Aki Books and The Institute of Social Hypocrisy. 'I realised there are so many independent publications around but no strong platform for them here in the UK,' he says.
As well as being an online shop, Antenne Books will also distribute books and magazines to UK and Scandinavian retailers - focusing on works by publishers like Nieves, Dashwood Books, Seems and Hassla. And soon it will publish its own titles. Watch this space.
Receive our daily digest of inspiration, escapism and design stories from around the world direct to your inbox
Malaika Byng is an editor, writer and consultant covering everything from architecture, design and ecology to art and craft. She was online editor for Wallpaper* magazine for three years and more recently editor of Crafts magazine, until she decided to go freelance in 2022. Based in London, she now writes for the Financial Times, Metropolis, Kinfolk and The Plant, among others.
You might also like
Chic peas: new art cookbook charts a history of hummus

On the Hummus Route traces a utopian track between cities, people, markets and dinner tables. It documents street food in nine Middle Eastern cities, including Cairo, Jerusalem, Gaza, Tel Aviv, Jaffa, and Damascus, and in doing so, offers a fascinating insight into the area's design, food, and culture

By Elly Parsons Last updated
View More ▸