Aroma therapy: fashion designer Ann Ringstrand finds her calling in perfume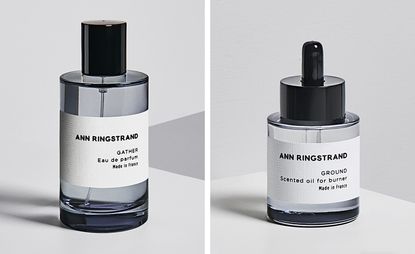 (Image credit: Ann Ringstrand)
After 25 years as designer and co-founder of the Swedish fashion brand Hope, New York-based designer Ann Ringstrand decided it was time to stop and smell the roses. 'There was a point when my fashion company was growing and many of my professional goals were achieved, yet I didn't feel personally fulfilled,' she recalls. 'At that same time, I noticed that I had a hard time staying present in my everyday life with my family.'

In 2014, she 'redesigned her days' around vigilant meditation, yoga and more quality family time. She also made frequent visits to her art studio on the Lower East Side of New York, where she discovered a passion for all things olfactory.

Her time there prompted Ringstrand to enroll in perfume studies in California. From there she began collaborating with perfumers in Paris on a trio of scents inspired by her personal relationships and her sense of self.
Light and spicy, with an aromatic metal lime stony base, 'Ground,' says Ringstrand, is an ode to the relationship we have with ourselves; 'Gather' is an earthy, woody scent inspired by social relationships. Meanwhile 'Touch,' a leathery, spicy, powdery scent, is based upon intimate one-on-one experiences.

Drawing from her fashion background, Ringstrand designed a line of silver and gemstone jewellery to serve as receptacles for the scents. The pieces take their design cues from 1960s Swedish jewellery and Buddhist prayer beads, though they also display the hallmarks of the modern, Swedish aesthetic for which Ringstrand is known. She's incorporated uneven hand-cut beads of dark-red jasper, black tourmaline, black quartz and white howlite sourced from Belo Horizonte in Brazil into the designs, to imbue them with strong calming and restorative energy.

'The gemstones are related to each scent,' explains Ringstrand. 'Black tourmaline and black crystal can be paired with Gather. The white howlite gemstone, also called White Buffalo, is a very light crown mineral stone. It inspired me to create the Ground scent. The third stone in my design is the dark red jasper. The stone's beautiful, warm colour is connected to the third scent, Touch, by its appearance.'

Last week Ringstrand launched her fragrances and wearable gemstones at the New York showroom of lighting designer Lindsey Adelman. They appeared alongside artist Maria Moyer's limited-edition diffusers in stoneware and terracotta – 'two materials that keep perfume oil very well and for a long time,' says Ringstrand.

'After trying to find modern diffusers and burners for my scents but finding nothing on the market that I would put in my own home, I asked Maria if she could experiment with an oil diffuser that was within her aesthetic,' Ringstrand continues. 'I love the geometric shapes that Maria creates in her art. I also adore her sense of material and her signature raw glaze.'
INFORMATION
For more information visit Ann Ringstrand's website (opens in new tab)