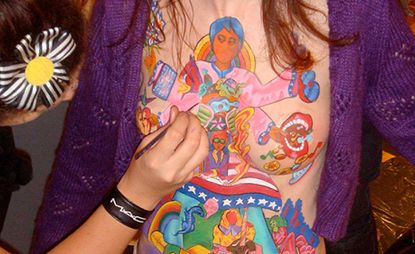 (Image credit: Press)
Alan Aldridge, our November limited-edition cover illustrator and the 'Man with Kaleidoscope Eyes', has done his share of body art in the past - most famously perhaps for his Chelsea Girls film poster for Warhol.
But with his retrospective currently covering every wall of London's Design Museum's second-floor gallery, he was happy to hand the body painting of the live models over to the crack team at MAC Cosmetics.
Headed by Dean Rudd, Pro Trainer for MAC UK and an artist in his own right, a team of six artists reinterpreted Aldridge's work on the torsos of two models.
Aldridge was keen for them to use the iconic work he did for the Beatles, so on one model an image was recreated from The Beatles Illustrated Lyrics. For the second, Rudd followed his own instinct and, keen to work one of Aldridge's more 'insecty' pieces, created a montage of images from the Butterfly Ball and Grasshopper's Feast which he was introduced to as a child.
Rudd's portfolio includes some impressive body art but this, he claims, was by far the most intricate work he's ever done. The team started painting at 10:30am and were hard at it until shortly before the party began at 7pm.