Transport
The future looks exciting when surveyed through the eyes of the world's aspiring automotive and aviation designers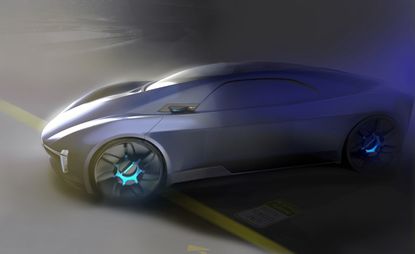 (Image credit: Press)
Our pick of this year's transport talents envision a future of accessible helicopter travel, cradle-to-cradle car design and a bold new design direction for Bentley.

Writer: Jonathan Bell
'I want to find a way to design a product that is emotionally durable,' says Casey Phua (opens in new tab), who explores ways of making people more attached to their cars and therefore more conscious of the car's role in society. Citing a roster of mostly architecture influences (Mies, Gaudi, Ando, Frank Lloyd Wright and Dieter Rams), Phua's final year project created a car that can be reconfigured, personalised, changed and enhanced as demand and technology allows. 'It's a fun tandem, electric hobby vehicle that helps foster and grow the bond between the parent, child and vehicle,' he says. 'The shift to full vehicle autonomy would change the vehicle's architecture completely,' he adds, 'it potentially frees up so many constraints that are present today.'
'The Gryphon is a helicopter concept designed for private use,' Erik Evers (opens in new tab) states boldly, adding that 'I am passionate about fying vehicles and helicopters, so I asked myself whether they would ever be more accessible.' The Gryphon is a pretty good stab at how rotorcraft might evolve to suit long-distance private travel. It's a thrusting, insectoid object that could be the Zipcar of tomorrow. 'I believe that the future holds a much broader range of mobility alternatives for people,' Evers says, 'and when everything works really well, the only way to compete is with great design and aesthetics.'
'The shapes we draw are influenced by both personal and external factors, which can sometimes limit creativity,' Peter ten Klooster (opens in new tab) says, explaining how his degree project, Power of Random, explored the use of fractals to generate forms. 'It introduces a new intuitive way of finding shapes, trying to get the designer out of their comfort zone,' he says, and the end result is a flowing, elegant autonomous vehicle with strong organic overtones. Klooster's work explores the interaction between furniture, transport and coming technologies.
Sam Lucas (opens in new tab) likes to immerse himself in visual culture. 'I follow a lot of architecture, aircraft, fashion and concept art blogs,' he says, 'technology and materials science are also a big passion for me.' His final project drew on the sci-fi imagery of Syd Mead, the conceptual genius of Le Corbusier and the copious talents of Thomas Heatherwick ('his London Bus is a masterpiece') to create an ultra sleek, composite-built vehicle that's entirely embedded with lights and sensors. 'Algorithmic styling allows for the graphics of the car to change over time, being affected by all kinds of external influences,' he explains, 'car design is fundamentally about playing with light and how it reacts with surfaces.'
Naming his project Beautiful Death, Minwoo Hwang (opens in new tab) focuses on what happens to a car at the end of its life. 'My inspiration derived from dismantling objects,' he explains, citing Poul Kjaerholm's chair designs as another reference for his overlapping forms. The result is a car that's designed to decay creatively – 'the antithesis of a conventional vehicle' – and change the way we perceive cars today. Hwang mentions the work of Marc Newson, as well as Korean firms Hyundai and Kia. 'It's exciting to see these firms' development in such a short space of time.'
The Flux Concept is a look into the far future of Audi's design language, distilling several decades' worth of distinctive car designs into a 'personal on-demand shuttle' intended for dense urban areas. 'I set myself the task to design a sustainable and attractive vehicle for the Audi customer of tomorrow,' says Ernst-Martin Maurer (opens in new tab), who envisages the sleek machine running autonomously on both regular roads and an ultra-fast monorail network.
'The inspiration behind my work is mainly architecture,' says Joe Ginniff (opens in new tab), 'there are a lot of questions that could be drawn from movements like De Stijl'. With influences ranging from Ikea to Kia, Ginniff's own work draws directly on modern architecture, with elements like sliding walls and moving furniture and inspirations that include Thomas Heatherwick and Philip Johnson. 'Most people will always be interested in the design of their vehicle, especially if that vehicle starts driving itself,' he predicts, 'the design will then become the main area it's judged on, especially the interior.'
'I tend to look for new forms through methods of making,' says Frank Brown (opens in new tab), 'and I have always been a fan of designs that are a consequence of need - like racing or extreme conditions like Land Rover or Jeep.' A trained product designer, his contribution to the Fiat 500 project examined how the car – already a reborn classic – could be transformed into a vehicle designed explicitly for car-sharing. 'It needs to be sturdy and simple to use and the interior and controls have been simplified,' he explains, 'it also continues to have an essence of being Italian.'
Jang-Hun Choi (opens in new tab)'s Bentley Extreme Roadster concept is a bold one for the luxury car manufacturer. 'The shape came from the 1930s Blower Bentley and the massive wings of planes such as the Airbus A380.' Choi is inspired by architecture, sculpture and brands such as Porsche. 'The 1970s were a golden age for car design – those experimental and progressive styles are still fresh and inspirational today,' says the Pforzheim graduate, who also cites former BMW design chief Chris Bangle as an infuence. 'He created a paradigm shift of public awareness of car design.'
Phil Rogers (opens in new tab) describes his ultra-agile Ducati Rinato concept as 'a fully electric ultra-lightweight super sports car concept for the 21st century European market.' The Italian motorbike brand, recently bought by Audi, is reinvented as a four-wheeler, using a 'back to basics' design philosophy in order 'bridge the gap between bike and car'. Rogers' ultra-compact single seater is rendered with impressive attention to engineering detail.
Armand Bentzen (opens in new tab)'s Frisk Concept explores the future of car sharing in Norway. 'In order to make progressive car designs I believe we need to look outside the transportation industry,' he says. The Frisk concept draws inspiration from Norwegian culture - 'I wanted to make a car that was contextual and in harmony with its surroundings.' A rugged go-anywhere pod, the vehicle has quirky elements like built-in vegetation. He names Elon Musk and MIT's Neri Oxman as influences, as well as the classic Italian stylings of Marcello Gandini. 'I think people want to be surprised and amused and it is easier to connect to something that is alive rather than something static and dead.'
Fast forward half a century into the future, Byungyoon Min (opens in new tab)'s concept design envisages the Porsche 911 of 2063 - what would a whole century of automotive evolution look like? 'I assumed we'd be facing not only highly developed technology, but different city environments with a sophisticated infrastructure, as well as new customers with different cultural backgrounds and perceptions.' That said, the 2063 Porsche still has strong echoes of the 1963 original. Min mentions Chris Bangle, Mercedes' Mark Fetherston and Thomas Fleuret at VW as important influences.
Jiyeon Jenny Ha (opens in new tab)'s final project, the Audi TT-R4, helped her graduate from Art Center straight into a job at the VW Group. Heavily sculpted, the concept is a recognisable evolution of contemporary Audi style. 'I imagine that in the future people will be less attached to their cars thinking that its just one of many ways to get them from A to B,' she says, 'it's not a romantic symbol of their freedom anymore.' Nevertheless, her TT-R4 is all about iconic sports car imagery, implying that desirable design still has a major role to play for now.
Jonathan Bell has written for Wallpaper* magazine since 1999, covering everything from architecture and transport design to books, tech and graphic design. He is now the magazine's Transport and Technology Editor. Jonathan has written and edited 15 books, including Concept Car Design, 21st Century House, and The New Modern House. He is also the host of Wallpaper's first podcast.