Twilight zone: 10 years of Baselworld's craziest watch launches
Baselworld, the world's largest watch fair, always plays host to the wildest imaginings of watchmakers eager to outshine each other. There are no limits, so outré complications, psychedelic colours and unfeasible case sizes are all fodder for the fantasists. As Baselworld 2018 opens its doors, here are some of the wackier pieces seen over the years...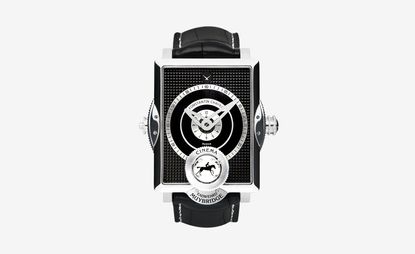 (Image credit: TBC)
Cinema Watch (2013), by Konstantin Chaykin
With smart watches offering functions far beyond the capabilities of any mechanical design, who would have imagined a mechanical device showing an actual film clip in a wristwatch? Paying homage to pioneer filmmaker Eadweard Muybridge, the watch featured a small lens at 6 o'clock which showed – driven by a second movement – his 1878 clip of the galloping horse and rider.
Opus 11 (2011), by Harry Winston
When it comes to unbridled innovation, Harry Winston's flagship Opus showcase has no peer: each is designed by a hired gun from the ranks of the world's finest watchmakers. All 14 qualify here, but one of the most outrageous was Opus 11 by Denis Giguet. Here, replacing traditional hands, are 24 revolving, geared plates, which meet at the centre to display the hour.
The Palace (2010), by Jean Dunand
Designed to embody every steampunk meme ever imagined by Jules Verne, this astounding watch's case recalled the structure of the Eiffel Tower, while its sub-dials were elongated tracks reminiscent of early motor racing circuits. Its functions included a one-minute flying tourbillon, a 60-minute chronograph, a second time zone and a power reserve indicator.
Antikythera SunMoon (2012-2013), by Hublot
Archaeology buffs know the Antikythera as the world's oldest-known mechanical device, discovered in Greek waters in 1901. It still hasn't been completely figured out by scientists and engineers, but that didn't stop Hublot from miniaturising some of its astronomical/astrological functions into a limited-edition watch. This timepiece definitely requires you to read the manual first.
ODC-X03 (2017), by Hamilton
Most reissues are new models of actual watches from the past. Leave it to Hamilton to create fictional watches for Stanley Kubrick's epic, 2001 – A Space Odyssey, and then to reissue three of them as 'real' watches. This was the third from the trilogy, a 49x52mm behemoth with one mechanical and two quartz movements showing three zones, against a photo-realistic image of Jupiter for the dial.
Chapter One (2008), by Maîtres du Temp
Taking a hint from the Harry Winston Opus range, Maîtres du Temps also used a hired gun (or in this case, three) to design each model. For the debut, Christophe Claret, Roger Dubuis and Peter Speake-Marin devised a fabulous 'kitchen sink' model with tourbillon, chronograph, retrograde date and GMT and two rolling bars at 6 o'clock and 12 o'clock, indicating the day of the week and phase of the moon.