Zac Posen puts his signature polish on Brooks Brothers' womenswear collection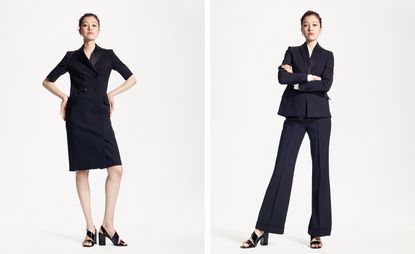 (Image credit: Zac Posen)
When you realise just how busy Zac Posen is, it's impossible to disapprove of the full-fat Coca Cola he orders as he takes his seat in the Claridge's Fumoir to discuss his latest collection for Brooks Brothers' womenswear line. This is a designer who now develops 16 collections a year, with his creative directorship at Brooks Brothers adding to his responsibilities toward his own eponymous label and that of his diffusion and bridal collections. Not to mention his role on Project Runway and it's demanding filming schedule.

'I need my go-go juice,' he says as it arrives. You bet he does.

Posen has applied his unremitting energy to womenswear at Brooks Brothers, which approached him two years ago to take up the reins of its women's business.

'For me it was interesting because it was a brand that wasn't about going in and creating a revolution, it was kind of creating an evolution to them,' he explains. 'It's the oldest American clothier, so that is exciting because it is an untapped opportunity to build on. It wasn't like I was going into a collection that had been through multiple ideas on how it should look prior to my arrival. It hadn't been bastardised. So it was kind of a clean slate and just an untapped opportunity.'

HIs brief was to build a strong women's identity beyond the existing offer, and bring in a younger shopper without alienating the business' loyal customers.

Unlike many young designers appointed to helm a heritage brand, Posen has yet to visit the brand's archive. But he has called upon the preppy codes of Brooks Brothers – the polo shirts, the Oxford shirting, the school blazers, the khakis, the shirt dress – and recast them in a fresher light, introducing bags designed by Yaz Bukey, original prints by Hermès print designer Pierre-Marie Agin, and adding footwear and scarves.

'The first thing I did when I got there was go into the inner construction of tailored jackets from inside out; we needed to reconstruct the jacket, fully,' he says. 'We narrowed the shoulders, gave it a structured shoulder, gave it a much higher armhole. It's a much stronger look but it's also not Saint Laurent.'

'And it has been a challenge; I mean, my [own] line is hardly [casualwear],' he adds dryly. Which is not to say that the challenge hasn't had its unexpected benefits. Just as the Brooks Brothers womenswear is bearing Posen's handwriting, his own label is starting to look a little less formal, with the reintroduction of shirting and a more laid-back attitude.

Correspondingly, autumn/winter 2016 brings the introduction of eveningwear to the Brooks Brothers' line-up, with sharp versions of Posen's tuxedos making an appearance alongside a velvet gown and a hybrid tux-cum-dress.

He has big ambitions at the brand. 'I haven't been involved in swimwear yet, I think that will happen over time. I think their homeware, potentially,' he says. 'I'd like to put my hand to their fragrances but it's essential that you don't rush things. One thing I have learned now through working in fashion is that really good brands are built slow and steady.'

Then, once he's earned his stripes and the trust of the business (which won't take long; pieces from his debut spring collection are selling out), he hopes to take ownership of the Brooks Brothers overarching visual messaging. 'I haven't really tapped into marketing or advertising yet but that takes trust, that takes sell-through, that takes time.'

That's going to take a lot of Cola Cola.
INFORMATION
For more information, visit the Brooks Brothers website