White out: Maison Margiela draws back the curtain on its latest flagship store in Milan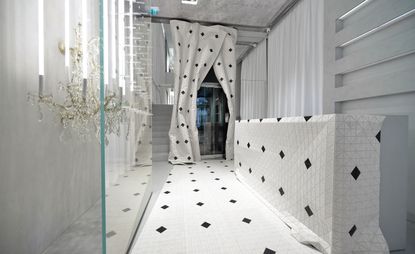 (Image credit: press)
With Milan's historical centre as its backdrop, Maison Margiela's latest store opening offers further evidence that John Galliano's recent appointment will safeguard the avant-garde house's experimental design ethos going forward
Coinciding with the international design community's takeover of Milan for the 54th annual Salone del Mobile fair, Maison Margiela has opened its latest boutique on Via Sant'Andrea in collaboration with Wood-Skin (opens in new tab) - a savvy Milanese company that redefines material possibilities.

With Milan's historical centre as its backdrop, the whitewashed store marries clean, modernistic lines with classical architectural elements and even a little garden enclave. Stretching over 300 sq m, the impressive space's ground floor is reserved for womenswear and accessories, while the first floor is dedicated to the house's 'Artisanal' haute couture line and shoes.

Transporting the elegance of Paris' grand boulevards to the Italian city, Haussmannian ceilings and moulded cornices are juxtaposed with rough concrete surfaces, mirrored walls and tiled floors. The latter span much of the store and even climb the walls, in the form of Wood-Skin's malleable tiled curtain. These details all allude to the deconstructed shapes and silhouettes that Maison Margiela is best known for, and also offer evidence that John Galliano's recent appointment will safeguard the daring aspects of this fashion house's design ethos going forward.
Located on Via Saint' Andrea, the house has collaborated with Milanese design studio Wood-Skin on the store's material fit-out
The black and white tiled floors that span much of the store even climb the walls in the form of Wood-Skin's malleable curtain
Stretching over 300 sq m, the impressive space's ground floor is reserved for womenswear and accessories
The boutique also houses the 'Artisanal' haute couture line
The white washed store marries clean, modernistic lines with classical architectural elements and even a little garden enclave
Transporting the elegance of Paris' grand boulevards to Milan, Haussmannian ceilings and moulded cornices are juxtaposed with rough concrete surfaces and mirrored walls
ADDRESS
Maison Margiela (opens in new tab)
Via Sant'Andrea 5,
20121 Milano Italy
VIEW GOOGLE MAPS (opens in new tab)