Vilebrequin's artist-approved swimwear makes a style splash
Images inspired by American artist Derrick Adams' 'Floaters' series bob buoyantly across the St Tropez brand's beachwear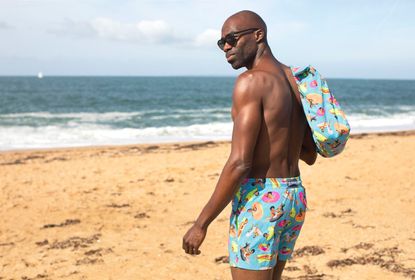 (Image credit: Vilebrequin)
Splashing around in a swimming pool is a pastime we'd all indulge in right now. Particularly if you throw in a colourful inflatable, a thirst-quenching cocktail, and some eye-catching swimwear.

These are motifs that Baltimore-born artist Derrick Adams and St-Tropez-based beachwear label Vilebrequin know swimmingly. The former's multimedia 'Floaters' series (2016-2019) features multifaceted portraits of Black leisure time, depicting men and women bobbing on duck and unicorn-shaped inflatables, or lying on lilos in cheeky American flag-emblazoned swim shorts. Artworks from this series were featured in 'Buoyant', an uplifting Black-identity exploring exhibition of Adams' work at Hudson River Museum in New York over the summer. The latter's colourful and print-emblazoned beachwear would equip anyone for a poolside frolic.
In a collaboratie style splash, Vilebrequin's latest capsule collection is inspired by Adams' 'Floaters' series. The offering features trunks and tote bags emblazoned with sunbathing swimmers, bobbing buoyantly on an azure blue sea, on doughnut, swan and unicorn inflatables. 'After designing a unicorn pool float last year, I wanted to pair it with swim trunks featuring my paintings, but set the notion aside,' Adams says. 'A few months later, I received a remarkably serendipitous email from the most venerable of swimwear brands wishing to collaborate, and the rest, as they say, is history.'

In celebration of the launch, Vilebrequin is donating $20,000 to the Eubie Blake Cultural Arts Center in Adams' Baltimore hometown. This initiative brings artists and audiences from diverse backgrounds together to support, develop, promote and advocate for cultural and educational programming in the arts. Float on!
INFORMATION
derrickadams.com (opens in new tab)
vilebrequin.com (opens in new tab)