Choose your fighter: the fashion brands outfitting video gamers
Fashion proves there's more to video game success than having a good game face. Luxury labels including Prada, Balenciaga and Louis Vuitton have launched in-game skins and clothing so avatars can outfit themselves in high fashion looks. Let's play!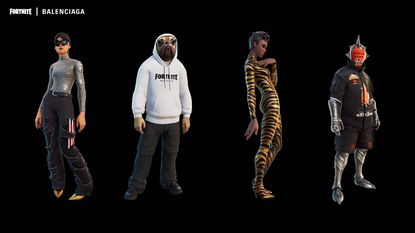 (Image credit: balenciaga.com)
Biking or battling, we think any digital gaming activity requires a winning ensemble. A host of luxury labels have stepped up their game, providing players' online avatars with outfits and skins that have stylish silhouettes.
Enter Prada, Balenciaga and Louis Vuitton, the Italian and French luxury brands fitting out characters and champions online, whether they're snowboarding at speed down an icy mountain or engaging in a battle arena showdown. Once your wardrobe is in fighting and fashionable form, we'll meet you in the metaverse.
Prada and Riders Republic
Putting pedal to the metaverse's metal, Prada has sped into the gaming circuit, collaborating with Ubisoft to outfit outdoor enthusiasts in the October 2021-released multiplayer video game Riders Republic. Here, online adrenaline junkies can bike, ski, snowboard, wing and rocket suit, while sporting pieces from Prada's technical and high-performance Linea Rossa line, featuring flame and camouflage print and go-faster zebra stripes.
Gaming perks for speed and style freaks? The Riders Republic social hub has been swathed in Prada Linea Rossa colours. Exclusive outfits are also up for grabs for players competing in the Shackdaddy Bandits weekly challenges, completing contracts in the in-game Prada sponsor program, or challenging their friends in the Prada Beyond The Line permanent event.
Balenciaga and Fortnite
Fortnite's Doggo, Ramirez, Banshee, and Knight can be fitted out in virtual Balenciaga skins and accessories, such as backpacks and its signature 'Triple S' sneakers, thanks to the French maison's collaboration with Epic Games' 2017-founded battle royale behemoth. Gamers can even access tools inspired by Balenciaga products, like a 'Speed'-sneaker pickaxe and an 'Hourglass'-bag glider.
Balenciaga began getting into 'Creative Mode' for A/W 2021, when it released its latest collection through the video game Afterworld: The Age of Tomorrow. In its collaboration with Fortnite – a platform that boasts 350 million players – gamers can shop on 'Retail Row' through 'Battle Mode' in Balenciaga's virtual stores, which are a take on the brand's bricks-and-mortar boutiques.
Louis Vuitton and League of Legends
Women's artistic director Nicolas Ghesquière is a well-known science-fiction fan, transcending the physical and digital realm back in 2015, when he cast Final Fantasy heroine Lightning as Vuitton's S/S 2016 bubblegum pink-haired campaign star. Ghesquière has also referenced Minecraft as an inspiration and in 2019, the label teamed up with Riot Games to outfit the League of Legends heroine and Empress of the Elements Qiyana, who brandished an LV monogram-emblazoned Ohmlatl throwing weapon. Senna, part of the Sentinels of Light faction, then followed, sporting slick thigh-high boots and wielding a relic cannon with an LV logo.
The same year, Vuitton released a one-of-a-kind Trophy Travel Case to hold the Summoner's Cup, the annual prize awarded to League of Legends world champions, which is cast in brass and silver plate, with accents in 24ct gold. The trunk, the first of its kind for an esports championship, celebrated a video game that boasts 180 million registered players worldwide.