Venue report: rounding up the most impressive A/W 2015 women's show spaces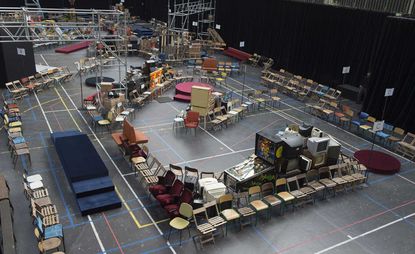 (Image credit: PRESS)
Givenchy: We returned to last season's high school hall for Riccardo Tisci's A/W jumble show. A miscellaneous match of items including arcade games, helmets and out-of-date TV screens decorated the multi-coloured court lines of the Parisian sports hall. The assembled audience watched from a range of velvet armchairs or foldaway garden chairs
Louis Vuitton: For the French brand's second run at its impressive Louis Vuitton Fondation location, all the action was transported outside to an installation of transparent, Buckminster Fuller-esque domes
Louis Vuitton: Designed by Es Devlin, the geodesic structure's seating was splashed with a mix of futuristic tangerine, brown and stark white as natural sunlight flooded the catwalk
Thakoon: Thai-American designer Panichgul Thakoon joined forces with Jonathan Beck on behalf of Dizon Inc to play with high impact colour for Thakoon's A/W set. Tinted film room dividers created a somewhat psychedelic effect as light bounced off them in all directions
Chanel: The luxury brand once again fulfilled expectations (and appetites) with its transformation of the Grand Palais into the 'Brasserie Gabrielle'. Three operational pop-up bars were equipped with Parisian waiters, coffee and newspapers, while the space was set with red leather banquets, wood boiserie panelling and bistro tiled flooring.
Prada: Pastel hues and metallic panelling turned Via Fogazzaro into a futuristic realm for Miuccia Prada's A/W offering
Prada: The show's 'Softer Pop' clothes floated through Mrs Prada's pastel space odyssey made up of diamond shaped silver flooring and ceilings
1205: Palm trees and tumbling foliage were the striking accoutrements to 1205's greenhouse show. The Barbican Centre's central conservatory provided a jungle escape for Paula Gerbase's utility inspired collection. The contrast of brutalism and green leafage set a serene scene for the elegantly tailored collection.
Dsquared2: In comparison to the past season where set designer Stefano Grossi re-created an actual apartment interior for the Caten twin's show, for A/W he went with a more graphic approach. A heavenly white staircase cascaded from a dimly lit, tiled marble entrance from which the models stormed the venue
Edun: New York's Skylight event space was left unembellished for this season's Edun show, leaving the venue's Stefan Beckman block installation to take centre stage. The set designer's studio created twin geometric structures that provided a narrow entrance for Edun's multi-cultural collection
Moncler Grenoble: On Valentine's Day evening we were welcomed into Moncler's 'love factory' inside the Duggal Greenhouse warehouse space within the Brooklyn Navy Yard. Set against a crimson draped backdrop, the action took place about a vibrant red, heart-shaped box. This later opened to reveal an array of his 'n' her Moncler outfits, each primed for a winter sport, before the male and female models took part in a kissing finale
Opening Ceremony: Humberto Leon and Carol Lim once again partnered up with Spike Jonze for their latest unorthodox showcase. This season, the white washed walls of New York's Cheim & Read gallery were plastered with a collage of photography by the American creative, which included profile images of both actresses and musicians
Tommy Hilfiger: There was a rush of all-American spirit surrounding the Tommy Hilfiger show in New York. For the brand's 30th anniversary Randall Peacock's design studio transformed the Park Avenue Armory into a Gridiron football field. Kitted out with 'Hilfiger' scoreboards, floodlights and even a Jumbotron, the stadium waited for the 'players' to storm down the green and compete in sportswear's finest
Dior: Upon returning to the Musée du Louvre, Raf Simons conjured a feminine glass box for Dior's A/W presentation. Producers Bureau Betak juxtaposed the soft pink flooring with thick black pillars and clean white benches, while huge windows offered striking vistas of the sandstone Cour Carrée
Wunderkind: Within the walls of the modern art emporium that is the Palais de Tokyo, autumn's Wunderkind collection was presented under a graphic mirrored enclosure. The concept, by Edwin Lemberg and Christian Weinecke, manipulated the spatial area through huge slanted mirrors that reflected faceted views of the collection around the clinical venue.
Emilio Pucci: Milan's Palazzo Serbelloni offered a palatial farewell to outgoing designer Peter Dundas. The Napoleonic room posed as a grand backdrop for Dundas' astrologically inspired collection, with its gold plating and crystal chandeliers shedding a glistening glow on all below.
Philipp Plein: In true Plein style, the showman's audience was given another thrilling performance to remember. A live music set by Azealia Banks kicked off proceedings, while a giant rollercoaster raced around the darkened theatre hall - save for the banner #pleinwarriors that shone in bright lights
Moncler Gamme Rouge: The outerwear giant took to the great outdoors for its Gamme Rouge showing at the Grand Palais. Equestrian models rode over an autumnal runway that was strewn with a patchwork of crispy brown leaves and green foliage
Kenzo: As creative sets go, Kenzo definitely rose to the occasion for A/W with its moving Paris installation. A 20-foot tall backdrop glided effortlessly across the enormous show space before splitting into six different blocks. The structures then rotated on the spot, revealing foiled metallic sides, which shone rainbow reflections onto Humberto Leon and Carol Lim's collection
Erdem: Back at London's Old Selfridges Hotel, Erdem Moralioglu enlisted the help of set designer Robin Brown to resurrect his A/W muse's fictional 1960s Parisian pied-à-terre
Erdem: Under the moody, shadowed lighting, the stained yellow wallpaper and tousled furniture brought a personal narrative to the artful presentation
Erdem: The retrofied apartment took some seven days to construct and fit-out
Versace: Dontella Versace's models arrived through a commanding red and black backdrop derived from the outer edges of the house's Medusa logo. Although the collection itself was more modest this season, the mood remained seductive thanks to the venue's dim boudoir glow and scarlet Perspex runway
Lacoste: In comparison to last season's themed set, for A/W Bureau Betak gave the spotlight to the brand's sportswear. The Lincoln Centre theatre offered a raw setting with white marking lines leading models around giant concrete pillars
Mary Katrantzou: One of the Royal Horticultural Halls was turned into a girl-power paradise for the Mary Katrantzou's presentation.
Mary Katrantzou: Bureau Betak created a spongy Barbie pink studded runway for the designer's cocktail attire to bounce over.
Proenza Schouler: The New York-based brand ran its sharply tailored collection down a stone tiled catwalk for A/W. Under low-hung lights, a backlit installation loomed over the venue's warm atmosphere.
Antonio Marras: The Milanese designer's gilt embellished set posed the perfect setting to compliment a show dedicated to Italian style icon Benedetta Barzini. Ornately printed walls offered an elaborate backdrop, while 18th century rugs marked the runway
Tod's: The Italian brand took over the Baroque setting of Milan's Palazzo Litta for its A/W runway presentation
Tod's: Deep red walls and gold seating dominated the opulent setting. The Italian brand's models entered from ceiling-high doorways as elaborate mirrors reflected the brand's A/W looks
Fendi: Swiss artist Sophie Taeuber-Arp's geometric abstractions boldy coloured both the Roman house's A/W show space and collection. Taeuber-Arp's distinctive style resonated in the graphic prints that ran along each side of the Via Solari venue
Hunter Original: Within the industrial surrounds of London's Albert Embankment Warehouse, Hunter creative director Alasdhair Willis continued his water world theme. This season, a trio of tumbling waterfalls flowed through the darkened venue
Maison Margiela: Although Paris' Grand Palais if often a rather, well, grand affair, Maison Margiela's high gloss white tunnel provided a sterile, blank canvas for John Galliano's first ready-to-wear collection
Marni: Consuelo Castiglioni 's Amazonian A/W 2015 collection was presented in an industrial-style den. The raw set space featured worn down plastered walls, rough grey pillars and a waxy red runway that drew the eye to the main event