Vacheron Constantin launches Cercle 250, to preserve ancient crafts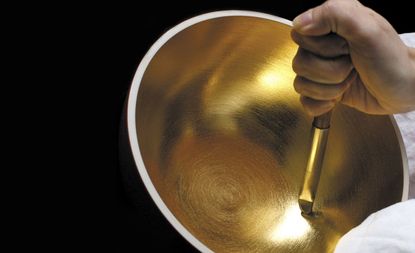 (Image credit: vacheron-constantin.com)
Wallpaper* Newsletter
Receive our daily digest of inspiration, escapism and design stories from around the world direct to your inbox
Thank you for signing up to Wallpaper. You will receive a verification email shortly.
There was a problem. Please refresh the page and try again.
Vacheron Constantin has launched Cercle 250, an association designed to preserve and promote ancient crafts. Among the creative partners involved is the Manufacture Nationale de Sèvres workshop, founded in 1740, in Paris. Pictured is its burnishing technique
To mark the launch of its Metier d Art Les Univers Infinis collection, this month Swiss watchmaker Vacheron Constantin has unveiled one of its most ambitious projects to date – the Cercle 250.

This association of creative partners who, like Vacheron, have been in continuous production for 250 years, has been set up to preserve and promote ancient crafts, but mostly to underline their contemporary relevance.

To give some idea of how rare the skills that continue to fuel these companies are, the Cercle includes the world's oldest paper mill, in Italy, and a Japanese cutlery maker established in the 17th century.

It also being a brand steeped in ancient decorative techniques, Vacheron Constantin lent its name to two major European Métiers d'Art days, in Paris and Milan at the start of this month to celebrate the launch of Cercle 250, an initiative that will also support specialist companies and emerging talent.

The Paris event – Les Journées Européennes Des Métiers D'Art – is an annual affair involving artisans across the city opening their studios to the public, with this year's participants including Reinhard von Nagel, harpsichord maker, and Bernard Pictet studio, the Paris glass engraver. Pictet's designs can be seen in fashion boutiques across the globe – it regularly collaborates with architect Peter Marino, creating bespoke glass for his Chanel and Louis Vuitton store projects.

Vacheron also displayed the decorative motifs and esteemed crafts that have given its pieces –contemporary and otherwise – exquisite, collector appeal. At the "Mémoires d'Avenir" exhibition, the watch manufacture established a pop-up studio with a coterie of its master artisans, including enamellers and engravers and their apprentices, allowing visitors an up-close view of their skills and an inkling of the time they take to master and apply.

Vacheron also took the opportunity to unveil three of its current métiers d' art pieces from the Les Univers Infinis collection, directly inspired by the works of Maurits Cornelis. The Dutch artist emerged in the 1930s and 1940s via his passion for artisan techniques such as woodcutting and lithography – processes that best served his graphic sensibilities and passion for pattern. He became known for his print work, which included book illustrations, murals and postage stamp design. Heavily influenced by the Moorish tiling he saw at the Alhambra in Granada while travelling through Spain, Cornelis soon immersed himself in tessellation prints – repeated mathematical formulas where interlocking patterns carry on seemingly infinitely – reflecting early forays into architecture studies.

It is these that the dials of the new Vacheron watches revisit in hard-to-master tonal shades using in-house enamelling, gemsetting, engraving and guilloche methods. Not only are the pieces a coming together of mathematics and aesthetics that is both graphic and contemporary, they make an artful addition to the wrist.
Vacheron Constantin's Metiers D'Art Les Univers Infinis collection is inspired by the tessellation prints of early 20th century Dutch artist Maurits Cornelis Escher. Master engravers, enamellists and guilloché artists spend hundreds of hours perfecting each piece
Founded in 1661, Maison Zohiko, Japan, is a world specialist in the maki-e lacquer technique. Vacheron Constantin has collaborated with the maison to produce a Metiers D'Art collection of watches
Receive our daily digest of inspiration, escapism and design stories from around the world direct to your inbox