Harlem artist Tschabalala Self collaborates with Ugg
'I turned designs from my paintings into repeated patterns,' says Tschabalala Self of the prints, motifs and flourishes that informed her collaborative designs for Ugg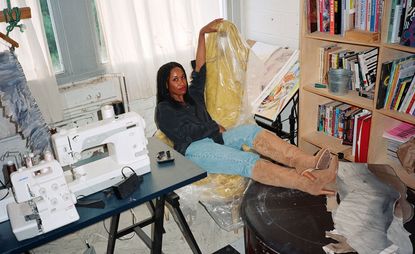 (Image credit: press)
The Performa 2021 Biennial, which took place in New York City last autumn, marked not only Harlem-based artist Tschabalala Self's first foray into performance art, but also into creating footwear and clothing. (She had already created bags, having worked with Louis Vuitton for its Artycapucines bag project, in 2019.) Her performance piece for the event, Sounding Board, showcased a collaboration with Ugg on a collection that features knee-high heeled and flat micro boots, roomy tote bags and outerwear, riffing on motifs, tones and patterns idiosyncratic of both Self and the American brand.
Sounding Board: performance, costume, and artworks intertwine
When Self was invited to participate in the Performa 2021 Biennial – the ninth edition of the performance art-focused event, themed around New York City and its emergence from Covid-19 restrictions – the painter, who explores Black American identity through expressive, warped, collaged portraiture, wasn't sure she could accomplish it. But it was the link between performance and storytelling in Self's paintings, often based on fictional characters – couples, fathers, a coquette, shoppers in bodega stores – that spurred her on. 'It was a matter of expanding that narrative,' she says, 'shaping a play, creating characters' internal dialogue and bringing my visual language into set design.'
Sounding Board, an exploration of gender and power play, saw a male and female actor engage in dialogue that progressed from the literal to the nonsensical, where narrative swapped and intertwined. The performance, set in a domestic 'liminal space' – an evocation of the settings of Self's paintings – featured staging formed from colourful, patterned, painted boards and oil paint projections. Clothing has particular resonance in Self's mixed-media artworks, which incorporate fabric, such as an out-grown pair of jeans, alongside a bricolage of chipboard, plasterglass and mirror, and depict pieces like New Era caps, sequined handbags and basketball vests. So she was keen to create cohesion between costumes and performance and her own artworks. 'I wanted the costumes to be more pared down than in my paintings, so they weren't distracting,' Self says. 'So I turned designs from the paintings into repeated patterns.'
Tschabalala Self and Ugg: a kaleidoscopic collaboration
Enter Ugg, which was on hand to assist in translating Self's costume concepts into reality as part of its collaboration. Slip-on boots are imagined in a painterly watercolour of oranges, pinks and softs browns, bold harlequin checks evoke patterns in Self's paintings, like the tiled floor in Ol' Bay (2019), and vivid, marbled motifs in tactile fluff nod to 2016's Loner.
In recent years, Ugg has collaborated with a diverse range of brands and creatives, including Telfar, Denim Tears, Feng Chen Wang and Heron Preston. Self was encouraged to experiment with Ugg's iconic shapes and signatures: the sheepskin-lined slip-on has been reinterpreted with a textural pattern that sees its back seam tessellated across the upper.
For Self, who has experimented in sound and sculpture, her collaboration with Ugg encouraged her to analyse the visual and conceptual decisions she had made in her previous work, and re-examine them from an 'objective' sense. 'It gave me a bigger appreciation for abstraction,' she adds. The artist compares the materiality in her work to drawing with her sewing machine, an approach exemplified by a move from 2D to 3D, from the flat surface of a painting to the physical form of clothing.
INFORMATION
tschabalalaself.com (opens in new tab); ugg.com (opens in new tab)