Has Tricot created the perfect sweater?
Meet Tricot, the sweater brand pioneering a sustainably-minded, unisex approach to style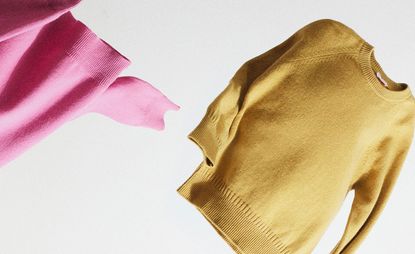 (Image credit: Nathan Robin)
There's something almost folkloric in the world of wardrobe acquisitions about finding the perfect staple item, be it a white T-shirt, a pair of jeans, or tailored trousers. For Rémi de Laquintane – creative director, designer and photographer – his search led him to the humble sweater. 'I thought it would be nice to create the perfect version,' he says.
De Laquintanes quest has a globe-spanning scale. He splits his time between France and Shanghai and co-founded his new label Tricot – which simply means 'sweater' in French – with NYC-based Tom Lehman. Lehman is also one of the co-founders of lyric and annotation website Genius, so it's unsurprising that a focus on software development and a serenely running Tricot website is integral to the brand and its aim to offer the perfect sweater. 'Everything has to be super well-designed,' de Laquintane says. 'The message, the product, the website.'
A Tricot sweater: timeless, subtly elevated, scoring on sustainability
For de Laquintane – who previously co-founded menswear brand Editions MR – the luxury world's fast-paced focus was disillusioning. 'When I started in fashion, the industry was more about a way to express yourself. Now it is about creating something new all the time, always updating, always changing.' For him, timeless design is focused on a versatile, unisex and elevated sweater shape, less about a statement, more about leaning towards subtle silhouettes that can assimilate seamlessly into your wardrobe, and reflect who you are.
Tricot's recycled cashmere sweaters are available in a spectrum of shades and multiple silhouettes, spanning the classic pullover, polo, V-neck, hoodie, and turtleneck. Other pieces include soft, organic-wool worker jackets, cropped crewnecks, and beanie hats. These are all made in a small family-run workshop, near Venice in Italy. 'When you buy food now you make sure it's well-produced,' de Laquintane says. 'The same applies to your clothing'
Tricot was launched six months before the onset of the Covid-19 pandemic and the principles behind the brand – a slow approach to design, using eco-aware fabrics, working remotely – are more prescient than ever. 'The pandemic gave us more of a reason for our choices,' de Laquintane says. 'We knew we had made the right choices.'
INFORMATION
tricotparis.com (opens in new tab)