Travel accessories: holiday necessities selected by the Wallpaper* editors
With a host of countries getting the green light for getting away, we're taking time out to consider the travel accessories for our first holiday, from sustainable luggage to state-of-the-art face masks, brilliant backpacks to innovative ear buds, equally to weekend sojourns or lengthy summer breaks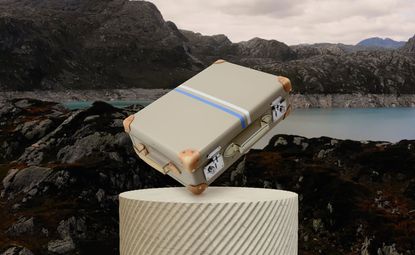 (Image credit: TBC)
Whether you are planning a weekend away, or a longterm post-pandemic escape, a host of well-honed travel accessories are required. Now a host of countries are getting the green light for travel, it's time to get excited about your first well-heeled excursion. Here, a host of the Wallpaper* editors reveal their must-have pieces for a glamorous getaway, and where they're most excited about escaping to when all travel restrictions are lifted. Take a grand tour of our must-have travel accessories for 2021.
TR612 Large Travel Tote, by The Row Selected by Dal Chodha, Contributing writer
'I've always resisted the call of bulky, hard-shell luggage no matter how good it looks rolling around airports in jewel colours. For a brief moment I even considered those see-through plastic cases but I am not a very neat packer. For travel I favour soft, nylon pieces that can be squeezed into corners and under seats or stuffed full of pointless paraphernalia. All hail the new succinct travel bag collection from The Row: as you would expect, it is minimalist, beautifully finished and possibly a bit boring but this is what I look for in all things sartorial. The large tote comes in a water-repellent nylon canvas (leather bags for travelling are often too heavy) and has a removable luggage tag and zip closure. It is quietly confident. This bag would be useful for day trips to the park and post-pandemic picnics too.'

Dream destination: A couple of years ago I stayed in a round bridge tower in Amsterdam for a week. Between 1967-2017 the cylinder-shaped Kortjewantsbrug house was used by city's many bridge keepers before it became a satellite hotel room (one of 28 operated by SWEETS Hotel). It had the most amazing 360-degree views of the city, hovering above the water. It felt remote but still in the thick of it. I'd like to go back there with a pile of 1960s magazines and a box of wine.
Cotswolds suitcase by Globe-Trotter Selected by Harriet Lloyd-Smith, Arts Editor
'I miss airports: retail playgrounds for some, labyrinths of terminal fury for others and sometimes even blank canvases for art. I even miss the red-faced sprint to a nearly missed flight; the lost baggage and lost hours, usually en route to find some art.

I grew up in rural Gloucestershire, so when I spotted Globe-Trotter's 'Cotswolds' range in its SS21 'Albion' collection, I knew it would offer a home from home in more ways than one. Both contemporary and nostalgic, it leaves me pining for three things at once: airports, art, and home – it's also robust enough for at least five copies of Wallpaper*.

I look forward to gliding through the duty-free jungle with my Globe-Trotter in tow, my Longines La Grande Classique to keep me on track, and shielded by an artist-designed face mask – perhaps Baron Von Fancy's Loose Lips Sink Ships – that's always a head-turner.'

My dream destination: 'Oslo, to visit the much-anticipated Munch Museum once it opens. While I'm there, I might pop across the fjords to revisit Under, the semi-underwater restaurant designed by Snøhetta. I got to visit in 2019, and it's not an experience I'll forget in haste.'
Circle One suitcase by Horizn Studios, and Mu3 earbuds by KEF Selected by Jonathan Bell, Transport and Technology Editor
'Horizn Studios already makes some of the best and lightest luggage out there, with helpful extras like removable battery packs and dedicated laptop sections. The company's latest range, Circle One, marks a number of innovations; a hardshell case formed from biodegradable, 100 per cent plant-based material that is also lighter than aluminium and more eco-friendly and long-lasting than polycarbonate. The company not only sells this as luggage that can be repaired but never replaced but it's also offering a 30 per cent discount to the under 30, helping make sustainability more accessible.'
'A helpful extra that never fails to come in handy are a pair of earbuds. I'm especially taken by KEF's first venture into the earbud market is the Mu3, a neat pair of noise cancelling earphones that have been honed by the practiced hand of Ross Lovegrove. Taking KEF's loudspeaker knowhow and cramming it into an organic, pebble-shaped pair of buds is a miracle of miniaturisation.'

My dream destination: 'Fogo Island Inn has been on my wishlist as long as I can remember. Designed by Bergen-based architect Todd Saunders back in 2013, the structure is the centrepiece of an island-wide program to revitalise a remote economy, involving all elements of the community. Desolate beauty that is crying out for a once in a lifetime trip.'
Face mask by Masuku, and eye mask by Ostrichpillow Selected by Rosa Bertoli, Design Editor
'A mask has become a daily staple, and although things might return to normality someday soon, I think I'll keep wearing one for a while longer. For this summer's travels, my choice would be the newly-launched Masuku One, by brand Masuku, a piece which is also featured in the June 2021 Innovation issue of Wallpaper*. Created by design firm Pentatonic and entrepreneur and philanthropist Natalia Vodianova, Masuku is a sustainable brand whose masks are made in England using cutting edge technology. Its design is based on comfort and equipped with sophisticated air filtration.'
'I am excited to try this eye mask by Ostrichpillow on an upcoming flight or train journey: an ergonomic style designed to perfectly fit any shape of face and head for maximum comfort. Now on Kickstarted, the Eye Mask was conceived following a simple idea: 'most masks are flat, while our heads are not', so its 3D design and specially-developed manufacturing process make it a truly ergonomic mask. Adapting to facial features and blink-friendly, the mask fits neatly with earplugs and earphones for a cozy blackout effect.'

My dream destination: 'Months at home have made me crave the outdoors like never before, and if I could travel anywhere in the world right now, I'd head to Xigera Safari Lodge in Botswana's Okavango Delta. The pavilion-like structure is immersed in nature and surrounded by floodplains, forests, grasslands and waterways and, even better, the entire structure is a showcase of pieces from African makers, artists and designers. Everything at the property (from large-scale, site-specific installation to tableware) has been designed and made by African talent, making it the most impressive and ambitious display of works from the continent.'
Cabin bag by Rimowa X Chaos and Freddy 42 backpack by Tanner Krolle Selected by Laura Hawkins, Fashion Features Editor
'Once upon a pre-pandemic time, I was lucky enough to visit the factory of Cologne-based luggage specialist Rimowa. There, visitors are invited to watch as the brand's sturdy luggage is is put through a series of wear-and-tear tests, as suitcases are dropped from different heights or wheeled over different terrains.

If the sleek durability of Rimowa's suitcases aren't captivating enough to travel accessory aficionados, now the brand has teamed up with London-based tech acoutrement experts Chaos, most famous for its colourful monogrammed phone cases, on a series of witty designs. These include eye-catching polycarbonate Cabin Bags and tongue in cheek luggage tags, which are released next month. I'll be popping this paint-splattered style in my overhead locker, and customising it with a fried egg luggage tag for extra style air miles. Bold, well-built, out-of-office bliss.'
'Cooped up for so long, I've been dreaming about stuffing some essentials into something small and heading to the open road hands-free. Of course, in my travel fantasy, I'm still exiting with something utterly elegant, so Tanner Krolle's Freddy 42 backpack is my accessory of choice. Its boxy leather folds will hold everything I need, and its laptop compartment and side pockets are also ultra practical. The London-based heritage brand has just launched at Matchesfashion, so make the luxury retailer's Carlos Place flagship the first pitstop on your adventure.
My dream destination: 'Months of quiet has me coveting a city synonymous with chic hustle and bustle. I'm dreaming of touching down for a full fortnight in Tokyo, vintage hunting in Daikanyama, ogling at the luxurious boutiques in Omotesandō, searching out sake and ramen bars in the winding back streets of Shibuya and unwinding in the picturesque gardens of the Nezu museum in Minato.'
INFORMATION
globe-trotter.com
horizn-studios.co.uk
uk.kef.com/products/mu3
masuku.com
ostrichpillow.com
rimowa.com
Receive our daily digest of inspiration, escapism and design stories from around the world direct to your inbox