Tobias Rehberger's latest installation dazzles at MCM, Hong Kong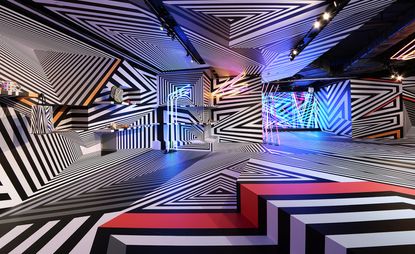 (Image credit: Tobias Rehberger and MCM)
German artist Tobias Rehberger enlivened Hong Kong's art scene with the launch of his latest installation space, 'If you want the rainbow, you gotta put up with the rain', in celebration of his handbag collaboration with German accessories brand MCM. The work's title was Rehberger's nod to the torrential rain that lashed the Asian city as art enthusiasts shuffled between the Art Basel and Art Central hubs.

The outlandish art space kept to the 2009 Venice Biennale Golden Lion winner's 'dazzle camouflage' signature, which he entwined with the new linear logo designed for the Korean-owned brand that also emblazons his limited edition capsule collection.

Taking over MCM's Central store windows and the entire lower-ground floor of the brand's flagship, Rehberger's approach – borrowed from a First World War British military tactic whereby naval ships were wildly painted to match the waves, allowing them to hide in plain sight – saw his graphic totes and 3D clutch bags morphing into the op art backdrop.

'I wanted the product itself – the thing that you normally have to focus on – to kind of disappear,' he explains of the optical illusionary space. 'The bags are placed a little like somebody has just left them there, and then you have these other objects that catch your attention,' he adds, referring to the odd scientific model and forgotten objects like a Coke can or a piece of fruit that he's dotted about the space. As for the plethora of decorative teapots? 'I thought teapots were a good thing because this is China and I wanted to bring all these European teapots back to the place where tea comes from.'

MCM's global CEO Paolo Fontanelli, who spends much of his year travelling between the brand's head offices in Zurich and Seoul, reinforces the cross cultural sentiment: 'This concept is East meets West, very much like MCM.'

Rehberger's work, which takes over three-quarters of the store's retail space, will remain in situ in Hong Kong until 2 May, while his fluorescent lighting tubes and jagged lines will also take over the windows of the brand's global stores during this time. 'At MCM we're convinced that stores should be a place to inspire and not only to sell,' adds Fontanelli, who will reopen the brand's redesigned Seoul flagship next month, followed by another on London's Conduit Street in the autumn.

All of this activity is in honour of the brand's 40th anniversary year, which is destined to be filled with more big moves, including plans for LC:M this June.
INFORMATION
For more information, visit MCM's website (opens in new tab)
ADDRESS
MCM
30 Queen's Road Central
Central
Hong Kong