Eastern fashion is moving in the right direction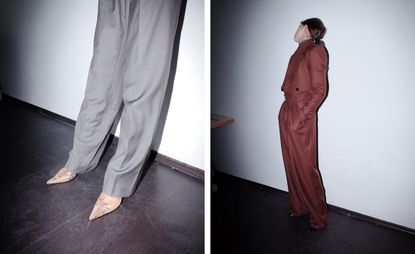 (Image credit: TBC)
Located on the crossroads of Asia and Eastern Europe, Georgia is gaining reputation as an up-and-coming travel destination, but still remains an undiscovered gem in terms of contemporary culture. This ancient country in the Caucasus was part of the Soviet Union for most of the 20th century, followed by the turbulent 90s that saw civil wars and economic crisis. The memories of the post-Soviet transition are still fresh, but today Georgia is heading towards global integration, with its heritage redefined as a valuable cultural currency. With new developments in art, design, hospitality and rave culture, fashion is the sphere which Georgia banks on the most as a chance to redefine its image.

The ongoing Georgian fashion renaissance is certainly connected to the rise of Demna Gvasalia of Vetements and Balenciaga to the ranks of the industry's A-listers. Although Gvasalia fled the country with his family in the 1990s, his success served a catalyst for Georgian fashion creativity, and brought along the spotlight of international attention.

With lack of infrastructure and institutional support, the Georgian fashion 'industry' is a tight-knit creative community which relies on the work of committed enthusiasts for its steady growth. Among them, a special place is reserved for Sofia Tchkonia, founder and creative director of Mercedes-Benz Fashion Week Tbilisi. Based between Tbilisi and Paris, Tchkonia has long been a champion of emerging talent — first as the founder of fashion design contest BE NEXT, and since 2015, by bringing press and buyers to Tbilisi as the fashion week organiser.

Tchkonia also enlisted photographer Grigor Devejiev as her key collaborator to create a cutting-edge aesthetic for Georgian fashion — a crucial task in the contemporary image-driven industry. With over a decade of experience working in fashion, Devejiev was one of the first to embrace the authentic settings of Tbilisi: Eastern markets, deserted underpasses and shabby street corners. Bringing together a post-Soviet aesthetic with Georgian folk tradition, Devejiev succeeded in creating an image which captured international attention.

Despite the unity of the Georgian fashion movement, the designs which generated buzz on the global scene couldn't have been more diverse. George Keburia conjurs up a high-tech version of romantic ultra-femininity and earned international attention with a sleek version of narrow cat-eye sunglasses. Seen on Rihanna, Solange and Khloe Kardashian, the glasses are now stocked at Galeries Lafayette and Opening Ceremony. Tamuna Ingorokva combines bold silhouettes with comfort in the spirit of Céline, often working in leather, a traditional craft skill in Georgia. Gola Damian pioneers playful gender-fluid designs popular among the city's party crowd and LGBT community.

Georgia's brightest rising star is Irakli Rusadze of the label Situationist. His voluminous tailoring, leather coats and thigh-high boots make for eye-catching and covetable fashion (worn by the likes of Bella Hadid), while his vision channels the energy of emerging youth culture in Georgia. In 2017, Rusadze staged one of his shows at Bassiani, a techno-club located in the basement of the Soviet-built stadium in Tbilisi. As models marched down the catwalk in the strobe lights, it became apparent once again that Georgian fashion emerges from dark places — but its future is bright. Here, we reveal the Eastern designers we're keeping our eyes on...
J Kim (Moscow, Russia)
The work of J Kim's founder Jenia Kim is a testament to Russia's multiculturalism, which often goes unnoticed. Kim comes from a family of Korean emigrants from Uzbekistan, was raised in the city of Tashkent, and moved to Moscow to study. J Kim is rooted in the designer's research into her cultural heritage: she has found inspiration in Haenyeo, South Korean women practicing the art of free-diving; in busy and eclectic Uzbek markets; and the subtle beauty of traditional Korean food. At the same time, Kim's interest goes far beyond sets and ornamentation, and is inherent to the cut and the very essence of her garments. Kim has used various transformed variations of the Hanbok, the traditional Korean dress, reinventing its design for the contemporary global consumer. Kim's designs are bold and structured yet playful and strike a chord in the image-driven industry — exactly the case for her plastic 'fish bags', which were endorsed by the first-ever virtual influencer Lil Miquela.
Yulia Yefimtchuck+ (Kiev, Ukraine)
Soviet heritage is not an easy topic to discuss in contemporary Ukraine — connected, as it is, to a history of oppression and the erasure of national identity. Its a path the new generation of Georgian creatives consciously avoid. Yulia Yefimtchuk though is ok with going against the grain. For her, Soviet references are about socialist ideology, strong work ethics and values of equality she can truly get behind. On the radar of the international fashion community since 2014, when she received special recognition from international retailers Opening Ceremony at Hyères Festival, Yefimtchuk was the first to integrate Soviet slogans into her collection. 'Every day it becomes happier to live' and 'Peace to the World' printed on uniform-inspired red and black garments looked incredibly fresh and relevant then — just as they do now. Yefimtchuk's research into Soviet cultural history spans a variety of fields: from constructivist architecture to Soviet ambitions to land on and explore Mars, to 'Technical Aesthetics', a magazine published in the Soviet Union from 1964 to 1992, which covered topics such as the theory and practice of design in the USSR and abroad.
Paskal (Kiev, Ukraine)
The success of Ukrainian label Paskal is a representative case for today's global fashion market. With over 50 high-profile stockists worldwide, including Galeries Lafayette, Selfridges and Net-a-Porter, Paskal is in demand far beyond its local market. Founded by architecture graduate Julie Paskal in 2013, the brand's specialities are intricate laser cutting techniques, flexible volumes and frills. Combined with effortless switching from monochrome to colours like emerald, turquoise, pink and the occasional subtle flower pattern, the resulting designs range from futuristic girliness to wearable bold womenswear suitable for the post-Céline era. Describing herself as 'fluent in shapes, lines and structures,' Paskal draws inspiration from shapes that surround us in daily life, both in the urban environment and in nature. The ability to transform these observations into pieces which could fit into any wardrobe is perhaps the secret to Paskal's rapidly growing business.
Abu Blunt (Moscow, Russia)
Based in Moscow, Abu Blunt is a designer and creative director using the language of sportswear to tell the complex story of immigration and cultural dialogue in today's global world. Shot amidst an otherworldly urban wasteland, his collection 'Fragment 2' offered a high-tech version of the female muslim dress-code. Overall, Blunt is more interested in developing concepts and pushing boundaries, rather than the traditional model of producing clothes. Made from high quality materials ordered in small quantities from abroad, Abu Blunt pieces are usually small in numbers — but make a lasting impact.
INFORMATION
Mercedez-Benz Fashion Week Tbilisi takes place from 3-7 May. For more information, visit the Mercedez-Benz Fashion Week Tbilisi (opens in new tab), J Kim (opens in new tab); Yulia Yefimtchuck+ (opens in new tab); Paskal (opens in new tab); Abu Blunt (opens in new tab); Situationist (opens in new tab) websites