Fancy footwork: Sanayi 313's artisanal spin on traditional Turkish slippers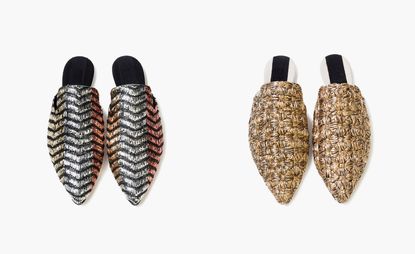 (Image credit: Serena Uziyel)
The 'babouche', a traditional Middle Eastern pointed toe slipper, hails from the feet of Bedouins and ruling Turkish monarchs. Typically found in Marrakech's souks and side streets, in recent seasons this flat slipper has followed the backless loafer phenomenon to become a runway mainstay in minimalist leather.

Accessories designer Serena Uziyel of Istanbul-based brand Sanayi 313 has taken these pared-back slippers to the next level with an artisanal approach that's quickly earned her a cult following in the fashion capitals and beyond.

'The collection feels timeless and the artisan styling and lifestyle aesthetic of the brand feeds into a trend we are seeing for what we are calling entertaining at home – a super luxe and elegant product that is still comfortable and easy,' says Cassie Smart, MatchesFashion.com's shoes and bags buyer, who spearheaded the brand.

A Parsons School of Design graduate, Uziyel honed her shoe-making skills in Milan, Florence and Alicante, before moving back to her hometown to team up with brothers Enis and Emir Karavil on a special retail project.

The brothers, a well-known interior designer and a businessman, had been toying with the idea of taking a car repair shop and transforming it into a lifestyle store, which would combine different disciplines. Having discovered they shared a mutual vision with the budding accessories designer, they asked Uziyel to join them on their destination venture. Soon after, the trio opened up shop in Istanbul's new artsy neighborhood, Maslak Ataturk Oto Sanayi.

'We started selling the collection from the shop and got great feedback,' Uziyel explains of the label's inception. 'It all started by experimenting with new ideas.' Uziyel values craftsmanship of the highest quality, and from the beginning worked closely with her artisans to reignite traditional Ottoman weaving and embellishment techniques. 'Each artwork is executed with rigorous precision, and it can take up to 36 hours to weave a pair of slippers,' she says. 'It is almost impossible to repeat the same pattern or texture.'

Uziyel's diverse choice of primary materials, such as the delicacy of metallic thread and the roughness of raffia creates a welcome contrast to the sophisticated and feminine look of her shoes and bags. Metal yarns, raffia, hammered copper and pom-poms decorate slippers, sandals and espadrilles, as well as clutches, shoppers and canvas totes, combining her artisanal approach with a fun, modern twist.
INFORMATION
For more information, visit Sanayi 313's website (opens in new tab) or MatchesFashion's website (opens in new tab)