Schiaparelli and Prada: Impossible Conversations exhibition, New York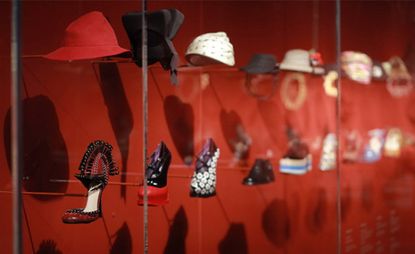 (Image credit: press)
Wallpaper* Newsletter
Receive our daily digest of inspiration, escapism and design stories from around the world direct to your inbox
Thank you for signing up to Wallpaper. You will receive a verification email shortly.
There was a problem. Please refresh the page and try again.
There is no such thing as bad publicity or indeed bad bad-mouthing. So back in January when Miuccia Prada made some disapproving remarks about an upcoming show, juxtaposing her work with that of 1930s couturier Elsa Schiaparelli, at the Costume Institute of the Metropolitan Museum of Art in New York, it merely served to increase anticipation of what might, or might not, be a ground-breaking exhibition. 'It's too formal,' said Mrs Prada to Womens Wear Daily, in an off-guard backstage moment. '[the curators] are focused on similarities…but they are not taking into consideration that we are talking about two different eras, and that [Schiaparelli and I] are total opposites.'

Tomorrow the exhibition 'Schiaparelli and Prada: Impossible Conversations' finally opens to the public, having already been partly exposed through the medium of the unparalleledly celebrity-packed fundraising annual Met Gala on 7 May, where everyone from Beyoncé to Gary Oldman, Robert Pattinson, Marc Jacobs and Carey Mulligan had an early viewing. I had an even earlier viewing, last Friday, when mannequins were still being moved into place, the hairdresser Guido and his team were matching satin head coverings appliquéd with butterflies, lips and insects to outfits and designers were painstakingly applying text to vitrines.

Even then, what was clear was a compelling binary iteration of fashion from Schiaparelli, whose major period of activity was the 1930s, and Miuccia Prada, who is a contemporary tour de force. Schiaparelli's concern with the torso is matched with Prada's obsession with below the waist. Schiaparelli's figurative hats meet Prada's outstandingly elaborate shoes.

The similarities of the two Italians' work – both hail from privileged families and came to the business of fashion later in life – is staggering, though this is less through a direct influence of one on the other, but the linking force of Yves St Laurent who was deeply interested in Schiaparelli's work and Mrs Prada is in his. The lip motif, for example, that Schiaparelli created with the surrealist Salvador Dali was adopted by YSL in the 1970s and by Prada more recently.

Reinforcing the idea that these womens' ideas are sometimes confluent and sometimes opposing are continuous films – directed by Baz Luhrmann in the style of My Dinner with Andre – where actress Judy Davis as Schiaparelli on the left side of the screen appears to converse with Miuccia on the right. Schiaparelli's words are taken from her autobiography, published in 1954, while Prada's come from recent interviews. The idea of an imaginary conversation is derived from a 1930s column in Vanity Fair which once imagined a meeting between Stalin and Schiaparelli as well as Jean Harlow and Sigmund Freud.

The exhibition has been brought together by Costume Institute curator, Andrew Bolton, whose McQueen show last year in the same spot was such a triumph, and director Harold Koda. Both women, says Bolton, didn't really care about titles, more about doing their job, though Schiaparelli is clearly a couturier with the skill of the Parisian ateliers at her disposal and Prada has a different advantage of a world stage.

'To me, Miuccia is most interesting when she talks about minimalism,' says Bolton. 'She says she used it as something to hide behind in the 1990s, when she was still ambivalent about working in fashion. But you can see here, through her exuberant use of print, decoration and colour that she is no minimalist.' Indeed, this is a point where her and Schiaparelli certainly collide. While the latter might have used fashion as an artform, and Prada sees herself as part of an industry, both are proved by this show to be very keen to push the boundaries of fashion and endlessly willing to provoke.
[Image here]
From left: Celebrated fashion journalist Diana Vreeland in Shiaparelli (1937), by Louise Dahl, and Prada S/S 2005 by Toby McFarlan Pond
[Image here]
From left: Wallis Simpson in Schiaparelli (1937), by Cecil Beaton, and Prada S/S 2011 by David Sims
[Image here]
From left: a Schiaparelli design (1927) by George Hoyningnen-Huene, and Prada A/W 1996 by Toby McFarlan Pond
[Image here]

From left: Elsa Schiaparelli in Schiaparelli (1931), by Man Ray, and Prada A/W 05 by Toby McFarlan Pond
[Image here]
From left: Schiaparelli cape (1935) by Andre Durst, and Prada A/W 2002 by David Sims
ADDRESS
1000 Fifth Avenue (at 82nd Street)
New York, NY 10028
Receive our daily digest of inspiration, escapism and design stories from around the world direct to your inbox