Sao Paulo Fashion Week report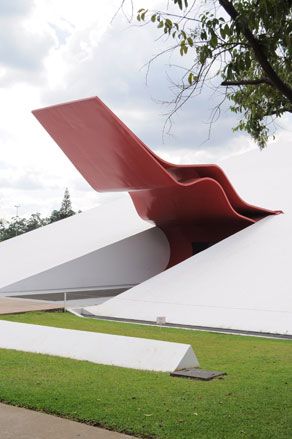 (Image credit: Kajsa Mclaren)
Sao Paulo's tropical oasis, Ibirapuera Park, was abuzz last week with the vibrant colours, clicking heels and dazzling flashbulbs of Sao Paulo Fashion Week (SPFW). Housed in Oscar Neimeyer's serene Pavilhão Ciccillo Matarazzo, SPFW is now in its thirteenth year and flourishing.
While officially recognized as a viable alternative to shows in Europe and the US, what really sets SPFW apart is its commitment to Brazilian themes. And it's definitely the richer for it. The oversize shoulders, demure drapery, geometric cuts and architectural shapes of A/W 2010 were revitalized in the hands of Brazilian fashion's great and good.
Saturated colours, tropical tweeds, safari silks, exotic prints and playful styling injected the shows with fresh personality and impressive diversity. Highlights included Fraga's metallic two-piece; Amapô's cubist mini dress; Huis Clos's heavenly drapery, Iódice's Scarlet Macaw print, Gloria Coelho's futuristic architecture and Animale's porcupine trim.
Alongside local flash bulb magnets such as Fernanda Lima and Gloria Kalil, there were also a few international appearances - Jesus Luz and Agnes Deyn at Ellus were highlights - reminding everyone that brand Brazil isn't just a local affair, it's steadily seducing the world.