Salone del Mobile preview: The Power Brokers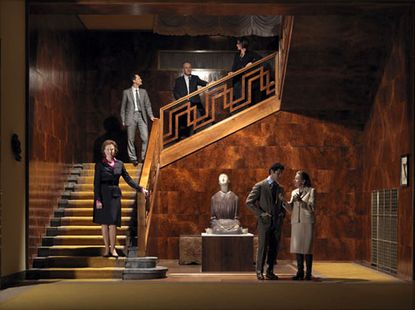 (Image credit: press)
From left, As Mayor of Milan, Letizia Moratti is hugely dedicated to the cultural aspects of the city. Her support of performing arts, architecture and design has seen exhibition visitors double in the city for 2008.
Why do you live in Milan?
Milan is my city - it's the city I love.
What do you like the most?
I love its ability to constantly evolve. Milan is an open city willing to welcome people, histories, cultures, and ideas from all over the world.
Where do you go when you leave?
Generally business meetings. I try to stay away as little as I can because I want to devote myself as much as possible to my city.
Do you stay in Milan during the Saloni?
Yes, certainly. The exhibition cannot be missed: it is a special chance to enjoy the vastness of ideas and the most various expressions of creativity that the entire world brings to our city.
Three favourite places?
Pietà Rondanini, Michelangelo's last masterpiece in the museum of Castello Sforzesco. Mantegna's Cristo Morto, full of Italian art treasures. The Design Museum in Triennale which discloses the future, because Milan is about evolution.
A former luxury goods consultantAndrea Ciccoliis now Commissario Straordinario of Milan
Why do you live in Milan?
I came to Milan to attend University. Since then, I've lived for periods of time in France, London and the US, but I am Italian and Milan is the only place in Italy that you can actually get real business done!
What do you like about the city?
I love Sunday mornings with my newspapers at Cucchi where the waiter knows my name and brings me my latte macchiato and sfoglia alla mela without ever having to ask.
Where do you go when you leave?
In a way, I find it very relaxing to stay in Milan when everyone else is battling to leave. But when I do go, I like to ski, jog under the palm trees or jump into the ocean.
Do you stay in Milan for the Salone?
Absolutely. The design world seems to embrace the entire city and all of its inhabitants. It's very different from the fashion weeks which are exclusive events closed off to everyone without a ticket.
Three pieces of advice?
If you're a friend and plan to stay at my apartment, I suggest you book a year in advance.
Three favourite places?
The Bulgari has a wonderful garden for spring time aperitivi. I buy my music and movies from Fnac on the weekends. There are a million great Italian restaurants here but I also like have Japanese food at Kisho or Fingers.
Vittorio Radice, CEO of Le Rinascente
Silvana Annicchiarico is the director of the Design Museum at Milan's Triennale
Why do you live in Milan?
Milan is the only city in Italy with an International dimension and stature. It's the only one that doesn't feel provincial.
What do you like most?
The fog, even though it's not like it used to be. The concreteness- which is what it used to be. The future- which is not yet what it used to be
Where do you go when you leave?
With work I have visited the most important cities in the world, from Shanghai to St. Petersburg. To escape I go to a village in Liguria where there is nothing except sea, sky and walking.
Do you stay in Milan for the Salone?
It's an unmissible event. It's an uninterrupted, nomadic flow of designers, buyers, sellers, students, journalists, archeticts and simply curious people - it has a frenetic, party pace. You need to search, unearth and discover.
Three favorite places?
Il Palazzo dell'Arte di Giovanni Muzio. Joia Restaruant in Via Panifilo Castaldi. I chiostri di San Sempliciano
Matteo Marzotto of Vionett
A member of one of Milan's oldest families, Giulia Maria Crespi is still a force of nature
Why do you live in Milan?
I have always lived in Milan because my family has always belonged to this city.
What do you like about the city?
What I most love in Milan is my home where my seven grandchildren live, and which contains works of art left to me by my father. I also love the Scala Theatre.
Where do you go when you leave?
I leave Milan every weekend to go to our countryhouse in the Ticino Park. We have a shope where we sell cheese, honey, meat and oil - all produced from our land.
Do you stay in Milan during the Salone?
I seldom stay in Milan for the Salone because whenever I can I run away to the country to breath pure air in the woods and to hear the birds singing.
Three pieces of advice?
I would first drop into the Armani shop and buy a few of those very special tailleur suits. Secondly look for a Feltrinelli bookshop where you can read the newest books and drink a Bellini. Then go for relax and a quiet brunch to Villa Necchi Campiglio.
Rosa Bertoli was born in Udine, Italy, and now lives in London. Since 2014, she has been the Design Editor of Wallpaper*, where she oversees design content for the print and online editions, as well as special editorial projects. Through her role at Wallpaper*, she has written extensively about all areas of design. Rosa has been speaker and moderator for various design talks and conferences including London Craft Week, Maison & Objet, The Italian Cultural Institute (London), Clippings, Zaha Hadid Design, Kartell and Frieze Art Fair. Rosa has been on judging panels for the Chart Architecture Award, the Dutch Design Awards and the DesignGuild Marks. She has written for numerous English and Italian language publications, and worked as a content and communication consultant for fashion and design brands.