Prada's latest retail tribute to artist Carlos Cruz-Diez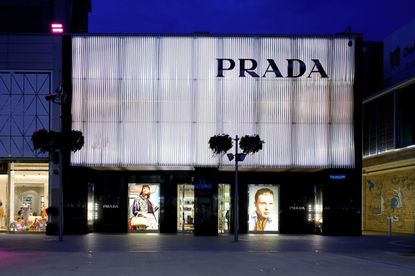 (Image credit: Roberto Baciocchi)
If you're familiar with Miuccia Prada's dynamic and inventive use of colour and pattern, you'll understand her attraction to the Paris-based Venezuelan op artist Carlos Cruz-Diez (opens in new tab), a leader in the kinetic art movement and a modern pioneer of vivid hues and mindblowing pattern.

Prada's admiration for Cruz-Diez is now being displayed on an epic proportion. Last month the final touches were completed to the latest Prada (opens in new tab) store at London's Westfield Stratford City (opens in new tab), a 230sq m, ground-level boutique designed by Italian architect Roberto Baciocchi (opens in new tab). The store's façade pays obvious tribute to Cruz-Diez, its series of aluminium, steel and golden blades producing a moiré effect often associated with the artist. The interior is no less complex, teasing the eye with multi-faceted mirrors, deep cubic storage, polished steel and a gleaming checkerboard floor.

Stratford's 15m façade is the latest in a recent succession of new Prada boutiques that pay homage to Cruz-Diez. The seemingly vibrating patterns of vertical blades have become a tradition for the brand. It enlisted Baciocchi to design its new Qingdao, China, location with a backlit vertical composition that juts out in high relief to create an optical illusion. Boutiques at Harbin's Charter Shopping Center and Shenyang's the Mix City Crossing followed suit.