Phoebe English's new exhibition 'Floating, Falling, Drowning, Flying' opens at NOW Gallery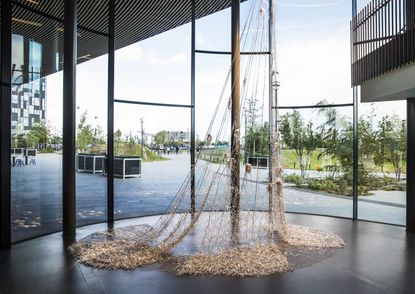 (Image credit: Charlese Merson)
Within the glass walls of North Greenwich's NOW Gallery, a 30kg glass bead curtain hangs suspended from the two-storey high ceiling. Titled 'Floating, Falling, Drowning, Flying - An Introspective of Process', it's Phoebe English's most sizeable and ambitious installation to date, but it is by no means her first.

English has created site-specific installations for retail spaces before, and the presentations and films the London-based designer uses to show her collections also involve set design that places much emphasis on the atmosphere of the surrounding space.

In fact, she explains, 'I really struggle to design a collection when I haven't set the show space. A lot of my collections are really a response to the physical space that they'll be shown it. It's important that the whole thing is not just models wearing some clothes.'

This approach makes NOW Gallery's invitation a perfect fit. 'Initially we were just going to do an installation,' says English. 'I'd also prepared quite a bit of background information and they found that really interesting. So the idea of having an exhibition alongside an installation came about, which would explore my working process.'

The installation itself is based on a textile English developed for a previous collection, which she reinterpreted and reinvented. It's 'a celebration of the site-specificities of the space', she says. 'Its height, the light, the sense of gravity. It was about responding to the space. The architecture around here is extremely slick and finished, so I wanted to do something a bit more unfinished and chaotic, to interplay and contrast with it. It was about starting a conversation of materials and surface with the surrounding area.'

English's creative process is made visible on tables that are 'almost like a nature table or a cabinet of curiosities'. These contain notebooks, fabric swatches, sketches, line-up sheets, inspirational phrases, working images and technical tools. 'The things I display in there are a kind of reaction against how people experience fashion,' continues English. 'The general public experiences it in a glossy, glamorous, overly sexualised way. I wanted to cut away through all that and expose the process of actually making it. It's about the remnants of making. It's about exposing things you wouldn't come across in the fashion media.'

English is known for creating intricate pieces with precision, through meticulous methods and lots of physical handwork. Seeing her thought processes for each collection lined up so clearly brings home how coherent and conceptually logical her vision is.

'It's something quite personal,' she muses. 'Everything is hand-stitched and handmade, there's a physical connection. It gives the impression of something quite precious but at the same time it looks like it's something someone has just finished sewing, the threads are still apart. It has an ephemeral feel, an instantaneous moment about it.'
English has created site-specific installations for retail spaces before, and the presentations and films the London-based designer uses to show her collections also involve set design that places much emphasis on the atmosphere of the surrounding space.
'I really struggle to design a collection when I haven't set the show space,' she says. 'A lot of my collections are really a response to the physical space that they'll be shown it. It's important that the whole thing is not just models wearing some clothes.'
This approach makes NOW Gallery's invitation a perfect fit. 'Initially we were just going to do an installation,' says English. 'I'd also prepared quite a bit of background information and they found that really interesting. So the idea of having an exhibition alongside an installation came about, which would explore my working process.'
The designer's creative process is made visible on tables that are 'almost like a nature table or a cabinet of curiosities'. These contain notebooks, fabric swatches, sketches, line-up sheets, inspirational phrases, working images and technical tools. 'The things I display in there are a kind of reaction against how people experience fashion,' continues English.
English is known for creating intricate pieces with precision, through meticulous methods and lots of physical handwork. Seeing her thought processes for each collection lined up so clearly brings home how coherent and conceptually logical her vision is.
'The general public experiences it in a glossy, glamorous, overly sexualised way. I wanted to cut away through all that and expose the process of actually making it. It's about the remnants of making. It's about exposing things you wouldn't come across in the fashion media.'
'It's something quite personal,' she muses. 'Everything is hand-stitched and handmade, there's a physical connection. It gives the impression of something quite precious but at the same time it looks like it's something someone has just finished sewing, the threads are still apart. It has an ephemeral feel, an instantaneous moment about it.'
Receive our daily digest of inspiration, escapism and design stories from around the world direct to your inbox