One-of-a-kind handbag brand Maison Ravn puts individuality in the spotlight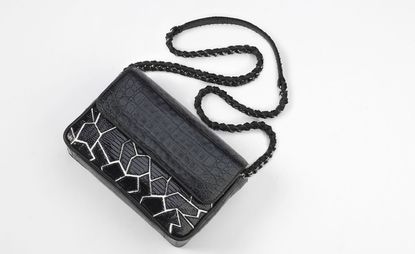 (Image credit: Maison Ravn)
Claudia Ravnbø was not in want of a new handbag when she founded her eponymous bag collection in January last year. If anything, she had too many. But she was fed up with seeing the same bags on the arms of other women everywhere she went. And she went to a lot of places in her work as an artist and interior decorator.

She was in Izmir on the coast of Turkey two years ago, working on an interiors project for a private villa connected to the Mandarin Hotel at Bodrum, when she stumbled upon a piece of Ottoman embroidery and noted to herself that it would make a beautiful bag. The idea for Maison Ravn was born. 'I said, "If only there was a brand that makes one-of-a-kind, ultra-luxury and unique bags that have real meaning in the sense that nobody else could have the same bag as you",' she says. 'After all, all women are different so why should everyone carry around the same bags like a uniform?'

Ravnbø's path to handbag designer saw her start studying at the prestigious Goldsmith College in London, doing a degree in communication, film and photography, then transfer to the Glasgow School of Art for graphic design and then fine arts courses. She was accepted in to the Royal Academy but declined as she was expecting her first child. 'Since, I have always been creating - paintings, homes or bags,' she says, adding that her career began as a fine art painter and eventually led her to interior design.

The first bag Norwegian-born Ravnbø ever made was of Ottoman embroidery and lined with precious 18th century silk from Lyon. It wound up in the hands of Kate Moss, after the supermodel spied the bag on Ravnbø's arm when they were both in Turkey.

Originally, the bags were soft and reversible, made primarily from precious fabrics that proved to be too fragile for everyday use. This realisation led to an evolution that now sees the incorporation of exotic skins into the brand's four key styles. The notion that they should be as beautiful on the inside as on the out is still a big part of the brand's design ethos, and rare, historical or valuable embroideries are still used in the interior of the bags.

Consequentially, the Maison Ravn aesthetic morphed into something a lot more minimal, with the focus on timeless practicality, doing away with superfluous extras. And, while Ravnbø is always inspired by art, film and her travels – especially to India and Morocco – this season was specifically informed by disparate themes including 'Catherine Deneuve in Belle du Jour, gypsy romantic, army chic, eighties punk and Chinese dragons'.

Within the four current styles, the Ravn bag is the hero; a useful day bag inspired by Ravnbø's own need for a hardworking handbag. 'You can easily stuff loads of things inside (my bags are always full of everything),' she told Wallpaper*. 'They are very practical as the magnets are the closing mechanism, and the chain of woven python is very comfortable on the shoulder.'

The Baby Ravn is a smaller version of the Ravn bag, and an effortless day-to-night offering. Then, for evening, there is the new Mini Ravn, which Ravnbø says is 'really like a small gem – ultra chic with a lot of unique craftsmanship.' Later this year, a men's style will be launched incorporating all the sleek practicality that the brand has become known for.

Ravnbø is on the cusp of a move to Paris from Saint Remy de Provence, where she opened the Maison Ravn atelier in a former Pope's residence in Avignon last year. Once in Paris, the plan is to open a Maison Ravn flagship on Rue du Faubourg Saint-Honoré, then look to further afield to reach retailers in New York, Miami and London.

And while Ravn says she is '100 percent dedicated to Maison Ravn', she still keeps her hand in the interiors game: she is currently working on a small luxury boutique hotel in Budva St. Stefan in Montenegro, which will be finalised in May 2017.
INFORMATION
For more information visit Maison Ravn's website