On tour: Louis Vuitton debuts new additions to 'Objets Nomades' collection at Salone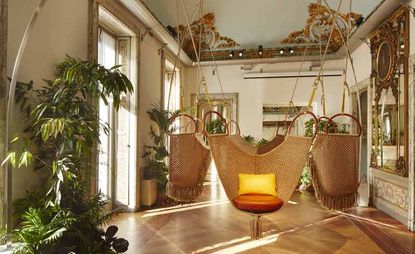 (Image credit: Stéphane Muratet)
Louis Vuitton is providing a little respite from the Salone-filled streets of Milan this week with a show dedicated to its 'Objets Nomades' at Palazzo Bocconi.

The French giant has transformed the opulent interiors of Milan's Palazzo Bocconi into a scene straight out of a luxury jungle safari this week, as part of the city's annual Salone del Mobile festivities. Arranged across the Palazzo's marble and marquetry floors and interspersed with lush green foliage, the exclusive 'Objets Nomades' collection of lighting and furniture was originally launched in 2012 and is inspired by the maison's history of innovative luggage design.

'Before Louis Vuitton, all trunks were leather and had domed tops - the idea being that if it rained the water would run off,' explains Jay Osgerby of London studio Barber Osgerby (opens in new tab), one of the founding design firms behind the 'Objects Nomades' collection. 'Then along came Louis Vuitton and invented this impregnated canvas finish in the familiar check pattern, that meant you could have a square, stackable, flat-topped trunk with 20 percent more storage capacity. Their success as a company has always come through careful thinking about the market and through beautiful making.' It's this philosophy, or savoir faire as Vuitton calls it, that the Nomades collection seeks to celebrate.

Barber Osgerby's portable, solar powered 'Bell' lamp, blown from Murano glass and housed in a hand-stitched leather enclosure, was debuted back in 2012 alongside a portable, hanging cabinet covered in recycled leather off-cuts by the Campana Brothers. Featuring alongside was a knitwear-inspired leather hammock and a folding travel stool by Atelier Öi (opens in new tab). Since then, the collection has grown year-on-year, fortified by products such as a portable 'Beach' chair by Maarten Baas (opens in new tab), a perforated leather 'Surface' lamp by Nendo and Patricia Urquiola's ingenious handbag that folds into a stool.

For 2015, new additions include a 'Concertina' chair, side table and lamp made using a series of folding leather panels by design studio Raw Edges. 'We like to find a principle and then to try and apply it to different objects,' say the London-based duo. 'In this case we started with the armchair, which is the most challenging, then applied the comfort, foldability, strength and finally the mechanism to the table and light, which was a very joyful process'. Gwenaël Nicolas' folding fabric lamp and roll-up, leather-edged canvas bed were inspired by Ernest Hemingway's travels to Africa, while Damien Langlois-Meurinne (opens in new tab)'s elegant valet stand and hanging plant holder, assembled from leather-covered poles and gilded brass brackets, nod to Louis Vuitton's historical made-to-measure trunks that opened up to reveal clever storage compartments and mechanisms.

Following this year's debuts, the meticulously crafted collection now comprises sixteen luxury items fit for the most discerning of travellers, from the deck of a superyacht to the dunes of the Sahara and beyond.