New York Fashion Week A/W 2022: the trends and takeaways
In this extended report, Tilly Macalister-Smith reveals eight trends and takeaways from New York Fashion Week A/W 2022. Discover fire-starting fledgling talent, the Big Apple's proclivity for Very Peri, and an affection for denim, leather and sparkle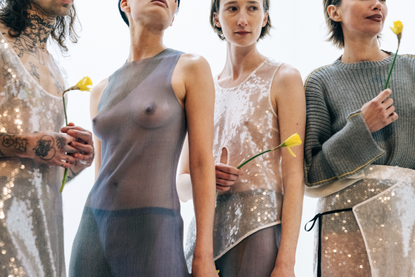 (Image credit: Eckhaus Latta)
There's a stat in business lore that says only a third of all new businesses make it past their first year, and only a third of all those businesses make it to year three. So given this, New York Fashion Week A/W 2022 felt like a celebration of successes. Not so much for the Madison Avenue establishment, but further downtown, where the beloved Echkaus Latta celebrated its tenth anniversary. Known for its homespun, indie clothes, it was buoying – and eye-opening – that with slow and steady progression, the brand founded by Mike Eckhaus and Zoe Latta has graduated into real business (it now has two stores, situated bi-coastally like the founders, and recently launched childrenswear). The duo's friend Maryam Nassir Zadeh, who walked their label's show, is another example of an independent flourishing brand (her diversified business model encompasses a multi-brand store plus her own line). Adeam also celebrated a decade.
Meanwhile, a slew of new brands founded during the Covid-19 pandemic were getting their second and third seasons and hitting the ground running (see more below on this). Most exciting is the spirit of experimentation that this vanguard is ushering in. Leading the charge on this enterprising, adventurous journey is Carly Mark and her irreverent label, Puppets and Puppets, one of the most anticipated shows of the schedule.
Fashion week's game of musical chairs continues. Covid-19's impact on the global supply chain scuppered Tom Ford's show, The Row has moved to Paris Fashion Week, there's no Vaquera, and Christopher John Rogers has shifted to showing on pre-collection timings. Shayne Oliver (known for the label Hood By Air, one of the vanguard of gender-neutral, tonal street-slash-utility brands that came to define an era) returned, with an eponymous label and a creative studio, Anonymous Club. Others (Jonathan Simkhai, Imitation of Christ) stepped into a new dimension – the metaverse. While the blocky beta environment of Second Life feels far from the current IRL experience, it's certainly a territory worth watching. Digital native Maisie Wilen hijacked Yahoo's tech to create a holographic show.

What else? Covid-19 cautions saw show seating reduced, with some brands, like Proenza Schouler, showing twice. And Telfar Clemens and Collina Strada both showed films starring their friends on the final day.
New York Fashion Week A/W 2022: the trends and takeaways
01. Emerging talent
Perhaps most exciting is the crop of new talent emerging from the upset of the past two years. This pioneering energy is rich in breadth and styles, from pop colours to dishabille subversion. Almost all have done away with traditional gender constraints, simply shelving the conversation with little fanfare. Wallpaper's March Style Issue showcases a portfolio of new talents including Diotima, Connor McKnight, Puppets and Puppets, Social Work, Head of State, and LA-based Kenneth Nicholson.
Elsewhere, Elena Velez explored the modern characteristic of femininity: 'gritty, fortuitous and industrial'. Zankov comprehensively traversed the possibilities of knit, journeying to the Lot in France to collect wisps of natural yarn from heirloom sheep for his graphic knits. Also creating buzz are Saint Sintra, Theophilus, SC103, Private Policy, Judy Turner, Dauphinette's Olivia Cheng, and mother-daughter design duo House of Aama.
02. Sexy Luxy: wardrobing that works
There's no denying it, New York has always been the city of clothes that look like, well, clothes. A long-term relationship with American sportswear will do that to a place. And besides, didn't we all grow up and get busy and want to pull on something easy before or after our meeting/school run/workout? But how to prevent a proliferation of 'solution-driven' garments from becoming just more merchandise? Sad apparel? Algorithm-designed fillers? Well: Extremely luxy fabrics. Scrupulously finished. Details well attended to: a cuff width, the narrowness of an armhole, a shoulder proportion. And that's before you get inside the clothes: a deep silk pocket, French-seamed hems, substantial buttons. And give it a point of view. Add some sex appeal. Make a pleat razor sharp. Thank you, Peter Do. Thank you, Khaite's Cate Holstein. Thank you, Michael Kors.
03. A feast for the senses
With visuals taken care of, designers tantalised our other senses. Ulla Johnson and Adaem sent incense with their invites (Astier de Villatte and Hako, respectively), Anna Sui shared fragrance to complement her digital show, Maryam Nassir Zadeh slipped Costa Brazil Breu Branco-scented body oil into her goody bags. On the matter of taste, Brandon Maxwell paid homage to his grandmother's cooking, while Interior's presentation took place at the Waverly Inn, where models snacked on fries, steak and oysters as guests milled about. Puppets and Puppets' Carly Mark adorned handbags with juicy carrots, and Collina Strada's Hillary Taymour enlisted her downtown friends to pose with root vegetables in her film showing at Angelika Film Center. As far as sound was concerned, a level of performance and showmanship added welcome drama to a generally measured fashion offering, including tap dancer Cartier Williams at Puppets and Puppets and drummer OmgCornelio at Gabriela Hearst. Eartheater gave a live performance for Oliver Shayne, and created a composition for Proenza Schouler, conducted by Simon Hanes.
04. Good front
Models on almost every catwalk bared considerable skin up top – a notable move in an outerwear-heavy season. Clothes shaped, defined, accentuated, titillated. They were provocative, and sometimes downright revealing. Clavicles framed, shoulders polished. It all speaks to the appetite for peeling off the cosy layers of our recent pasts. Corsets were laced and zipped in all shapes and structures, from Puppets and Puppets' two-tone, to Proenza Schouler's stretch-jersey tubes that slipped over suiting, to hand-worked and cropped at Ulla Johnson. Boobs were accentuated with robust boning, conical knits and trompe l'oeil.
05. Time to shine
Given the recent dearth of festivities, designers indulged in sequins and shimmer, finding ways to make sheen work around the clock. Khaite's penultimate dress on the catwalk was adorned in minuscule white sequins, the effect being of heaviness rather than showy sparkle, while Proenza Schouler's sporty stretch tops shone not from lurex but, upon closer inspection, hundreds of microscopic feather-like sequins. Watery tulle with translucent sequins at Eckhaus Latta was cut into dresses, tops and skirts; Peter Do sent out a substantial gown of black sequins; while Altuzarra's saucer-sized paillettes summoned fantasy mermaid scales.
06. Very Peri
Pantone started it. Very Peri – shade 17-3938 – is the colour of 2022. Well, come fall we will be wearing the 'dynamic periwinkle blue hue with a vivifying violet red undertone', as Pantone describes it. Sheer lilac tulle was draped in swags at Khaite, while Private Policy co-founders Siying Qu and Haoran Li sent out a lilac silk slip, jersey knits and a denim jacket dress. Proenza Schouler's shirtdress has wardrobe cornerstone potential and comes in violet and also scarlet. Sintra Martins of Saint Sintra tied yards of lilac shirting into bows and cut a wisp-of-satin off-the-shoulder dress. Maryam Nassir Zadeh even took her bow in a pair of amethyst trousers.
07. Deluxe denim
America's workwear staple was offered as a legitimate option for work, play, night and day. After years of development, Ulla Johnson launched her 'made in America' no-stretch denim, debuting a handful of styles with her ready-to-wear. Peter Do provocatively slashed jeans open at the thigh. Brandon Maxwell nonchalantly presented his true blues with marabou-feather wraps and evening satin shirting. Khaite's were oversized and worn with a sharp-shouldered blazer.
08. Love leather
Sexy. Structured. Romantic. Pleated. Leather came in all guises, cropping up in new roles while also revisiting classics, such as the trusty biker jacket. Most notable was Gabriela Hearst's leather trench coats, overlaid with Bolivian crochet (another big trend that isn't abating) and the punched-out leather lace that traced patterns sketched by the designer. Hearst carbon-offset her show, providing editors with a detailed breakdown of CO2 units in her press notes. Tory Burch brought a harder edge to her American sportswear with a pair of tan leather trousers and pared-back neat little black leather jacket, while Maryam Nassir Zadeh favoured vintage hues of chestnut and moss.
Tilly is a British writer, editor and digital consultant based in New York, covering luxury fashion, jewellery, design, culture, art, travel, wellness and more. An alumna of Central Saint Martins, she is Contributing Editor for Wallpaper* and has interviewed a cross section of design legends including Sir David Adjaye, Samuel Ross, Pamela Shamshiri and Piet Oudolf for the magazine.