Poetry, patchwork and an ode to Manhattan at New York Fashion Week Men's A/W 2017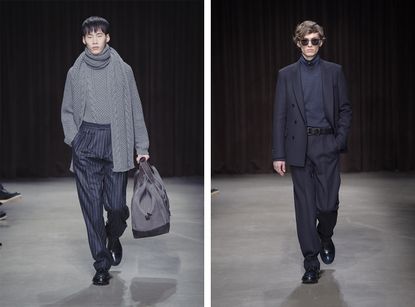 (Image credit: press)
A touch of southern sensibility kicked off New York Fashion Week Men's A/W 2017 in the cellar of The Beekman Hotel, as Billy Reid brought the famous Shindig festival he holds each summer in Florence, Alabama, to New York City. The designer's A/W 2017 collection was every bit as much a portrait of his own life; his friends – like model Karen Elson and actor Alex Sharp – starred in the show, which was marked by the Beat inspiration he garnered from an exhibition at the Centre Pompidou. Quilted corduroy jackets, plaid sport coats and cashmere turtlenecks exuded the casual-cool vibe that makes up the brand's DNA.

At Garciavelez, the artwork of Gordon Matta-Clark influenced the intersecting geometries of the collection's pieces. A grid print on a nylon raincoat was juxtaposed against a custom embroidered hoodie. The grid reappeared on a pair of sweatpants, but with an overlapping floral print for an element of softness.
At Ovadia & Sons, twin brothers Ariel and Shimon Ovadia looked to their childhood in Israel as inspiration, placing Hebrew phrases on football shirts and menorah patches on bomber jackets. Patterns and fabrics were bold and varied; trousers were imagined in camouflage and velvet, and teamed with scissored leopard print knit scarves and silk jacquard coats.

That evening, N Hoolywood's Daisuke Obana applied the 'look' of homeless people across the United States to a series of heavy, layered garments, hanging knitwear scarves over puffer jackets and chunky sweaters.
The German fashion giant Boss presented its first men's runway show in a decade at Skylight Modern. Chief brand officer Ingo Wilts had the modern traveller in mind, incorporating Boss's suiting heritage from the 1980s and 90s. Wilts played with proportions, slimming the silhouettes for a more contemporary approach. Large ring zipper accents adorned shirting and knit turtlenecks. The collection's outerwear was among its strengths; shearling embellished leather jackets and parkas had an artful bagginess to them, with large pockets on the back that could carry travel documents, or a newspaper.

Patrik Ervell also looked to the 90s for A/W 2017, with a collection inspired by the early rave scene. Turtlenecks, boxy jackets and straight-leg trousers were paired with the athletic Starter parkas that dominated United States during that decade. A wave of soft pink – on a parka, coat and vest – complemented the collection's darker tones.

Kenneth Ning fused technology with fashion through a live runway that was projected on to a giant screen. For the Gordon Gekko-inspired collection he used stock market numbers as the backdrop for a filmed fashion show, reimagining traditional tailoring with widened sleeves, and pairing a knee-length orange sweater over a white collared shirt.
Raf Simons' New York debut took place that night at the Gagosian's 21st Street location, his eponymous brand's first stateside outing ahead of his inaugural collection for Calvin Klein. The first look featured an exquisitely tailored, knee-length tuxedo coat, cinched at the waist with the words 'Walk With Me' in gaffer tape, and paved the way for a number of structured outerwear pieces.

Simons' ode to New York, an oversized sweater with exaggerated sleeves and the Milton Glaser-inspired 'NY' initials, demonstrated the designer's enthusiasm for his new home, despite America's unsettling political climate. The rest of the knitwear was especially strong, referencing the designer's fascination with youth culture through slouchy striped sweaters with breast pocket accents. Utilitarian influences were also seen in the collection, in a long workwear-inspired shirt and trousers, a more masculine contrast to the fitted vests and beaded necklaces. If Simons' first New York collection is any indication of what's to come, then things are looking good.

Bode, the label by New York-based Emily Bode, created a Cape Cod-inspired home for the backdrop for its A/W 2017 presentation, decorated with vases of lilies and colourful checked pillows. Pyjama-style suiting, shirts and loose jackets were created using vintage fabrics, artfully quilted into checked and geometric constructions.
Willy Chavarria took on a political approach, looking towards Chicano fashion and the Black Power movement. The presentation began with the models enclosed in a chain link cage, a symbol of oppression, before they were let loose. The designer placed various messages – 'Savour Kindness' and 'Capitalism is Heartless' – in the collection, placing them among the baggy athletic apparel-inspired shirts.

Farther east, Orley, the label founded by Matthew, Alex and Samantha Orley, took its style cues from the late folk musician Nick Drake. Fine Italian wool and Loro Piana yarns were used in striped suiting and classic knit polos, a signature item for the line. The designers, who won the Swarovski Award for Menswear in 2016, placed unusual marbled, matte stones onto the shoulders and fronts of sweaters. They also reimagined the bomber, giving it more of a 70s feel.

Back at Skylight Clarkson Square, General Idea's Bumsuk Choi unveiled a crowd-pleasing collection – a burgundy bomber with a contrasting black turtleneck was a refreshing new riff on the shape, and eyelets, buttons and zippers made for interesting detailing. The oversized proportions were balanced without being too overbearing.

Then came the finale – veteran designer John Varvatos rented out the nightclub/theatre Diamond Horseshoe for a Wild at Heart–themed collection that involved the rebellious, rock-and-roll look of the brand. Leopard print was a dominant theme on motorcycle jackets, coats and blazers. Lacing detail finished off the skinny trousers. The silhouettes were slim and fitted, appropriate for a hip indie band on the road.