Moncler Gamme Bleu S/S 2011 show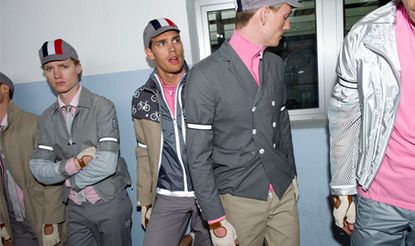 (Image credit: press)
Last year's S/S show at the Piscina Cozzi scooped our Best Spectacle award, and this year, Moncler Gamme Bleu pulled off another winner on the race track of Velodromo Vigorelli. Designer Thom Browne, Moncler proprietor Remo Ruffini and producer Etienne Russo teamed up once again this year, with a cycling themed show that had the audience's adrenaline pumping as much as the models'.
Watch the video of the Moncler Gamme Bleu S/S 2011 show
First, cyclists circled the track sporting billowing bicycle print capes and striped caps, before a further troop of models marched on wearing classic tailored suits, trench coats and shorts, featuring technical details found on cycling gear, like gusseted shoulders and extended rounded hems. These were worn with cycling shorts, leggings and a smattering of sporting accessories.
The collection was a cleverly executed mix of ergonomic, high-tech sportswear and sharp tailoring. And where Browne brought in a few whimsical touches like gingham checks, there were ample clean lines to balance them. He also returned to his winning colour combination of red white and blue.
All this was delivered with a healthy dose of wit, brought to a peak when Queen bellowed forth: 'I want to ride my bicycle...'