Cool as ice: Moncler equips solo South Pole expedition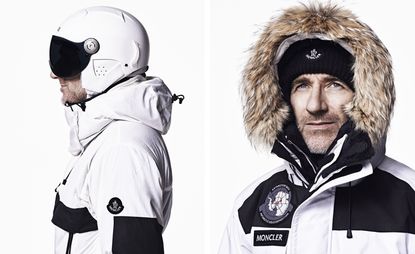 (Image credit: TBC)
In fashion, the idea of extreme sports may involve mixing and matching clashing prints, or wearing the same outfit to consecutive fashion shows. Which is why someone like Michele Pontrandolfo confounds us with an equal mix of admiration and – if we're being honest – inadequacy.

On 6 November, a few days before his 45th birthday, the Italian extreme athlete sets off from Russia's Antarctic science base at Novolazarevskaya on his 15th polar expedition. This time, the challenge is to make the world's first lone trek across the continent's icy interiors to the South Pole.
Pontrandolfo is currently trekking across Antarctica solo, aided by a sledge
Pontrandolfo is currently trekking across Antarctica solo, aided by a sledgeThe logistics of Pontrandolfo's mission are daunting, not the least down to the fact he will be crossing 4,000km of snow and ice – with varying altitudes of up to 3,800m above sea level – on nothing more than a wind-driven SnowKite sledge. The Italian's attempt at the same crossing last year was called off because the weather turned especially ugly. All things going to plan, on the second attempt he will arrive at the geographic South Pole around Christmas Day, and end the trek at Hercules Inlet in mid-January next year.

At this time of the year, temperatures are expected to range between -20°C and -48°C. Mental and physical fitness are a given, but staying insulated against such extreme cold is a different matter. Which is where Moncler steps in, the French outerwear specialist loyal to the last in its support of Pontrandolfo's expeditions.

For despite his insistence that he feels 'completely alive and free, even when icy gusts of wind are whipping at my face and the icy dust blurs the horizon', Pontrandolfo's survival depends largely on how well he is physically protected from the elements. Here, Moncler – a company that's made its name on an unlikely blend of technology, innovative design, high-performance fabric and fashion – is outfitting Pontrandolfo in ice-white garments inspired by its autumn/winter 2015/2016 'Grenoble' collection.

At the core of each outfit is fabric that is highly water repellent, designed to withstand very low temperatures thanks to heat-taped seams and thermal insulation with an extremely high filling coefficient. Moncler says the garments 'guarantee the utmost comfort under extreme conditions'.

For his part, Pontrandolfo's appreciation of Moncler for its loyalty is reflected in his description of the collaborative efforts in preparation for the expedition. In particular, he notes the company's professionalism. 'In meeting my every need and providing me every possible form of support [Moncler] has been truly moving'.
INFORMATION
For more information, visit the Moncler website (opens in new tab)
Daven Wu is the Singapore Editor at Wallpaper*. A former corporate lawyer, he has been covering Singapore and the neighbouring South-East Asian region since 1999, writing extensively about architecture, design, and travel for both the magazine and website. He is also the City Editor for the Phaidon Wallpaper* City Guide to Singapore.