Greek legend: Mary Katrantzou hosts S/S 2020 show at Temple of Poseidon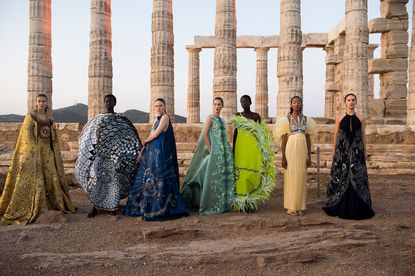 (Image credit: Jason Lloyd-Evans)
It's easy during the seasonal fashion week shows, to feel utterly disconnected from nature, shuttled from show space to show space in enclosed cars, glimpsing esteemed cultural sites, like the Eiffel Tower in Paris or the Duomo in Milan through a small window. But last night, guests at Mary Katrantzou's S/S 2020 show took in the startlingly azure blue hues of the Aegean Sea from 200 ft above sea level, perched amongst the 16 Doric columns that form the Temple of Poseidon, which since 444 BC has stood majestically on top of Cape Sounion, in Greece.

Here, instead of women in ancient togas, making offerings to Poseidon's tempestuous trident, and his power to stir up storms and shatter fleets of ships, models walked beneath the temple's colonnades in astonishingly imaginative and painstakingly crafted creations, barely fit for mere mortals. Greece born Katrantzou is the first designer to have access to the sacred space – one of the landmark monuments of the Golden Age of Athens – a period which also heralded democracy, the Western philosophy of Socrates and the dramatic poetry of Sophocles. Katrantzou's moment of modern magnificence celebrated her home city, and also in a nod to the possibility of the future, the 30th anniversary of Elpida Association of Friends of Children with Cancer.

Pieces had a couture-level of craftsmanship, which referenced Athens' Golden Age. A caped dress was hand beaded with lines of numbers, in an allusion to Archimedes' Pi, a delicately fringed gown was embellished with Aristotle's tenet 'Everything happens for a reason', and dresses were festooned with beaded constellations of the night sky, fantasy world maps, ruffled fronds of silk, 3D florals and swirls of feathers. Delphic pleats cascaded across shoulders, and silhouettes came in straight columns, as layered lampshades or as floating orbs.

During her creative process, Katrantzou learnt that Sotirios Voulgaris, the founder of Bulgari, was born in the Epirus region of Greece, before settling in Rome, and jewellery was provided by its high jewellery and heritage collection. A new piece featured an ancient Greek coin, a reference to the house's Monete collection.

During Athen's Golden Age, Plato's philosophical tenets took the form of written dialogues or speeches, theatrical performances played out over the course of eight hours and the unknown architect behind The Temple of Poseidon defined classical architecture using the Doric order. Katrantzou's own Midas Touch interpreted ancient culture with ebullient energy, remarkable craftsmanship and with an utter sense of joy. Never mind 200 ft above the Aegean Sea, she left guests feeling they'd reached the Elysian Fields.
Mary Katrantzou S/S 2020
INFORMATION
marykatrantzou.com