Margot 92: the new coat brand born from a New York encounter
New label Margot 92's transseasonal and timeless outerwear silhouettes feature transformable elements, including removable collars, cuffs and scarfs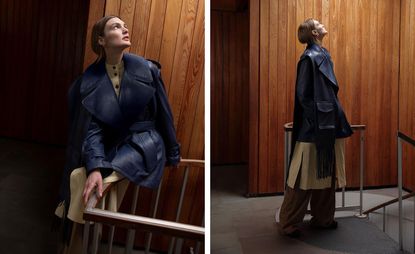 (Image credit: TBC)
Picture the New York scene: two women, one based in Brooklyn and one who's flown in from Houston, walk into a restaurant. Waiting for tables, Ashley Oswald, whose young daughter has just started school, and Eefje Sarah Dierickx, who has a swimwear label, get to talking. They discuss their shared love of fashion and their affinity for outerwear. After the duo's initial meeting in early 2019, they keep in touch. Over time, and a plethora of pandemic-induced Zoom calls, they develop the concept for a limited-run coat label, one with hybrid transseasonal elements, that can be worn myriad ways and extend the possibilities of a woman's wardrobe.
Welcome to the world of Margot 92. The newly launched brand, with a name inspired by the 1920s artists' model Marguerite Kelsey, who exempified lean 'garçonne style', and who was eternalised in oil and canvas by Meredith Frampton in 1928. 'She stands for confidence and strength,' Oswald says. 'The painting made a really lasting impression on us.'
Margot 92: transseaonal, transformable, versatile
Netherlands-born Dierickx, who has designed for brands including Calvin Klein, and Texan Oswald, who was diving into the world of fashion with classes at Parsons when the two met, craft expertly made, versatile and transformable silhouettes that they see transcending trends and seasonal whims.
'We were thinking about how you can play with your own wardrobe,' Dierickx says of pieces that can be altered according to attitude and weather. Cue a burnt orange military coat in rich textured wool with a removable shearling collar, a forest-green trenchcoat in buttery leather that boasts a detachable fringed scarf, an autumn-hued fully reversible boxy jacket, tactile shearling one side and leather the other. 'We have a trenchcoat with a top layer that can also be worn as a cropped jacket or transformed into a sleeveless vest,' she adds. The pieces, which are made in conscious limited runs, used luxurious fabrics from Turkey and Italy, transcend minimalism, bohemianism and utilitarianism.
When settling on the location of Margot 92's debut lookbook, Dierickx and Oswald looked to the 1955-built Luss House in Ossining, NY, a midcentury feat of cedar wood, steel and glass, which was architect Gerald Luss' first completed freestanding project and family home. In May 2021, the location was transformed into a gallery space with a showcase of contemporary art and design, organised by New York-based design platform Object & Thing, in collaboration with the art galleries Blum & Poe and Mendes Wood DM. 'The lines and colours infused in the house really reflected our collection,' Oswald says. 'We also liked the concept of two sisters escaping city life and going to the house,' Dierickx adds of the lookbook shoot.
For Oswald and Dierickx, their creative conversation shows no sign of stilting. Margot 92's co-founders are already planning two seasons ahead, with a focus on reinterpreting original silhouettes and expanding others. 'Outerwear is our passion,' Dierickx says. 'Our collections are about focusing on small details, and making sure everything is perfect.'
INFORMATION
margot92.com (opens in new tab)