Introducing Maiyet Collective, London's sustainable fashion pop-up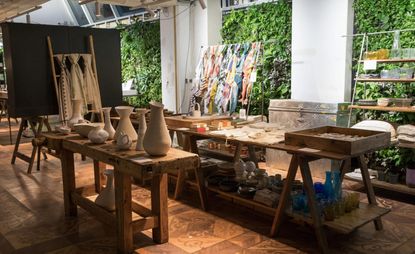 (Image credit: Alicia Waite)
Since launching in 2011, Maiyet has ushered in a new type of luxury by working directly with global artisans. This week, the label is set to open its first concept store in the heart of a seven-floor, 40,000 square foot building in Mayfair.

In the last seven years, ethical business and responsible investing have moved from the fringe to the mainstream. Co-founder Paul van Zyl says, 'The majority of consumers now care about the provenance of the product and its impact on the world.' Yet we live in complex times. 'Extraordinary wealth continues to be created, while inequality and social dislocation deepen; a hateful populism now poses a real threat to the idea of equality and to global peace and security. Those factors make it more urgent than ever to use the skills and resources we have to make a meaningful impact on the world,' he adds.

Before Maiyet, van Zyl co-founded the International Center for Transitional Justice in New York, challenging severe human rights abuses in more than 40 countries. Today he works at the intersection of design, luxury and ethics.

He planned to build a hub where change wasn't just a topic debated over curated cocktail menus, but something dealt with head-on. The result is The Conduit – an invitation-only members' club that will bring together NGO leaders with philanthropists who have the cash to make stuff happen.
The interiors have been designed by Cavendish Studios and Russell Sage Studio and include more than 170,000 lbs of recycled materials, ceramics, tapestries and books. It will also be home to a pop-up retail space known as the Maiyet Collective, which non-members can sign up to visit too. Open for only three days each month, it will offer a range of sustainable luxury and positive impact brands on rotation.

The debut sees around 60, mostly UK-based, labels including handmade shoes by Juta, fragrances by Sana Jardin and denim by M.i.h Jeans. Today, the ethics of all industries are being challenged by consumers. 'It's given me the confidence to lead on issues I'm passionate about and to listen and connect with our customer,' Chloe Lonsdale, founder of M.i.h Jeans says. 'Social media is a powerful, democratic tool that creates a two-way conversation. It's become a platform for us to have a voice and to lead in denim sustainability. And for us sustainability is luxury.' What matters is knowledge. The luxury of knowing where something is from and the impact it has had on the world.

Designer Bethany Williams's bold clothes will be available too. Working with local artisans, she develops waste materials into hand-crafted woven, printed, knitted and embroidered textiles. She says, 'From the consumer to the designer, as well as the producer, I've seen a change in what people are caring about and thinking about our relationship to fashion and the harm it has on the planet.' Pippa Small MBE, whose ethically sourced fine-jewellery will also be on offer, agrees: 'I think we now appreciate luxury for its time, skill, knowledge and creativity rather than just blindly buying into a more commercial concept of it.'

The Maiyet Collective is rooted in collaboration, conversation and consciousness. There is no trade-off between sustainability and beauty. Van Zyl says, 'The fashion industry is the almost perfect fusion between complexity and creativity. It has the ability to uplift and inspire, yet it's the world's second most polluting industry, therefore it has a remarkable opportunity to move from a bad actor to something that has a positive impact on both people and the planet.'
INFORMATION
For more information, visit the Maiyet website (opens in new tab)
London based writer Dal Chodha is editor-in-chief of Archivist Addendum — a publishing project that explores the gap between fashion editorial and academe. He writes for various international titles and journals on fashion, art and culture and is a contributing editor at Wallpaper*. Chodha has been working in academic institutions for more than a decade and is Stage 1 Leader of the BA Fashion Communication and Promotion course at Central Saint Martins. In 2020 he published his first book SHOW NOTES, an original hybrid of journalism, poetry and provocation.