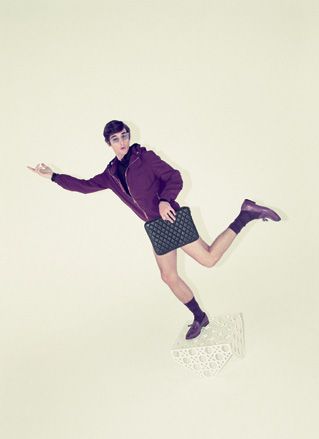 (Image credit: Paul Smith)
James Long, chosen by Lucas Ossendrijver at Lanvin
Tell us about your rise on the British scene, it's been a big year.
I was selected for three consecutive seasons as part of the Fashion East and Topman MAN show. Then the British Fashion Council came up with the New Gen Men Award for SS10, which meant I could continue to show in London. It is amazing to be supported, and encouraged, to move to next level. The selection panels for these awards are made up of industry insiders who are very passionate about helping menswear to make its mark.
You were an integral part of the MAN show earlier this year, do you think the event is an important addition to LFW?
Without the MAN show I wouldn't have been able to win the New Gen Men award. For me it was essential and integral part of launching my label. I think it's a really important addition to London Fashion week - there are so many fantastic menswear designers in London, so a legitimate showcase for their work is absolutely essential.
What is it about menswear that appeals to you? Do you feel that it shares the same freedoms as womenswear design?
I can relate to my designs and to menswear - I find it rewarding being able to wear my own clothes - also you learn a lot from wearing your own designs. I don't feel restricted when I'm designing, on the contrary I feel quite free. If you're restricted within any discipline you might miss that moment when all the ideas come together and you actually have something quite good.
Your work could be described as highly sculptural what are the primary maxims of your design process?
Most of it is intuitive, you know when it's right and when it's wrong, it's probably most exciting when it's so wrong it works. I try not to have any rules, I don't really stop and start researching or designing - it's a constant process.
What are your favourite materials to work with, what did you originally train in?
My Masters at the Royal College of Art was in Menswear, specialising in accessories, while my BA was in leather goods. I like to use leather, suede and sheepskin - knitwear is always really good to work with. I really revel in designing the accessories. I only use fabrics that I feel are relevant to that season's collection.
How would you best describe the British fashion industry?
Thus far I have found everyone in the industry to be incredibly engaged, and genuinely excited about up-and-coming British fashion.
Who would you cite as your biggest inter-industry advocates thus far?
I think Lanvin probably has to be my biggest inter-industry acknowledgement. Lulu Kennedy is also a great supporter of my work, whilst Bryan McMahon has styled all my shows and is very dedicated to the James Long cause.
Do you intend to continue showing in London?
London is a fantastic place to be at the moment. Sometimes I fantasise about having shows all over the world - but then I shake myself, think 'let's get this one done - and done well - then we can think about that'.
Jack Moss is the Fashion Features Editor at Wallpaper*. Having previously held roles at 10, 10 Men and AnOther magazines, he joined the team in 2022. His work has a particular focus on the moments where fashion and style intersect with other creative disciplines – among them art and design – as well as championing a new generation of international talent and profiling the industry's leading figures and brands.