Inside Extreme Cashmere, the label creating no-limits knitwear for every body
Extreme Cashmere is on a mission to create the ultimate cashmere wardrobe – 'no limits, no concessions'. Here, founder Saskia Dijkstra invites Wallpaper* inside the label's Amsterdam offices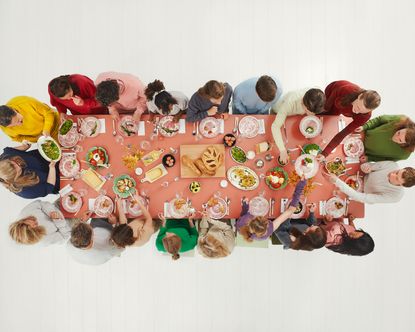 (Image credit: Courtesy of Extreme Cashmere)
The first cashmere sweaters that Saskia Dijkstra made were anonymous. There were no labels. No swing tags. No brand name. She wanted to do it her way: no compromising quality for price, no restriction in colour or shape. A style that would suit everyone.
It took one particularly exasperated customer, who said she had been searching for several months to find out where exactly these sweaters had come from, for Dijkstra – who worked for over 20 years as a manufacturing producer for brands including Joseph and Jil Sander – to waive her anonymity. Or, at least, give her fledgling brand a name.
In 2016, Extreme Cashmere was born. (With one caveat: the label inside each garment is still designed to be snipped away and removed.)
No limits, no concessions: inside Extreme Cashmere
'We are extreme,' smiles Dijkstra from behind a large desk in the brand's new offices, housed in a 17th-century building in Amsterdam's canal district, just a few minutes' walk down the street from where the brand was founded (and had entirely outgrown; 'You didn't know whether you would get a desk or a sofa,' she says). 'There was something odd about the name in the beginning, but it fits perfectly. It's really what it is.'
Indeed, Extreme Cashmere's maxim is 'no limits, no concessions' – an expression which encompasses the label's expansive offering in Mongolian cashmere, which is now available in over 300 stores worldwide. Colours are vivid, spanning classic navy, felt grey, and cream, to surprising shots of fluorescent pink and green (you will be hard-pressed to find such shades of cashmere elsewhere; currently over 100 colours are available for purchase).
The collections themselves are similarly without boundaries; alongside an array of sweater and cardigan shapes, Dijkstra notes that part of Extreme Cashmere's mission is to create garments which aren't typically crafted from the fabric – from criss-crossing vests and tube tops, to strapless dresses, tote bags and skirts. On the brand's website, a number of outfits have been created in this spirit – 'extreme club', 'extreme wedding' and 'extreme outdoors' among them – whereby a single click allows you to purchase the various garments which make up the look at once. Campaigns follow a similarly playful rationale: in summer 2022, a campaign was released showing pieces on holiday in Ibiza – in a nightclub, on the beach, and even under the water in a swimming pool.
It's the reason for Extreme Cashmere's success, believes Dijkstra, opening up a previously stuffy, bourgeois fabric to a new generation of consumers (something she also credits to the young, energetic team of designers, brand marketers and salespeople who work alongside her, many of which have been there since the label's inception). 'It's a big compliment that younger people are loving to wear the brand. To persuade women in their sixties [to wear cashmere] is easy, but to make young people feel cool – it's not. To have just one brand, and to dress everybody, it's good.'
A brief look over Extreme Cashmere's output shows this wide-ranging approach; on the brand's website, pieces are shown on men and women (every item in the collection is unisex) of various ages and body shapes. Of the latter, Extreme Cashmere creates everything in a singular size; the idea is you pick a style to fit your shape, rather than selecting from a predetermined list of sizes (Dijkstra is adamant they have a sweater to suit every body shape, and recently added a new style for a member of staff who had not found yet found the right fit – it is called the Juna, after her). 'I think inclusivity is something that's really clear in our photography.'
Wies Verhoofstad, Extreme Cashmere's brand director, who has been at the label since its naming, adds: 'I think [everyone who works here] has this thing where we lend sweaters to everyone we know, not just the friend that has the same type of body – you could give them to someone completely different. When I have visitors over I ask: do you want to try one? Then you see if it really works. It's quite magical how, for example, the Crew Hop [the label's oversized crew-neck sweater] works on so many different people.'
It took several months for Dijkstra to find the brand's new offices; of particular importance was a working kitchen and dining room large enough to house all the employees at once (even when she found one suitable, the existing kitchen was torn out and a new one put in with a giant stove at its centre). Each day – in a large wood-panelled room which looks out onto the building's garden – they sit down to lunch, which is prepared by a chef employed by the company.
There is a feeling of ceremony to proceedings – rather than supermarket produce, bread is purchased at a bakery, vegetables from a greengrocer, and so on – and dishes are designed to be shared (on the day of my visit, roasted cauliflower, fennel salad, artichoke leaves, boards of cheese and bread). Some days, they will cook for each other – Verhoofstad, in particular, is an avid chef and catered an al fresco lunch at the brand's presentation in Paris during men's fashion week in June. Also in summer, they hosted a dinner in the office's gardens for friends and family; an Extreme Cashmere treasure hunt followed.
It lends the offices a communal feel; indeed, down on the lower level is a working laundry – a leftover from the building's former life as a girls' school – in which staff members can have their Extreme Cashmere clothing washed and dried (the drying takes place on one of the offices empty floors above, with each piece laid out flat on towels – satisfyingly, by colour). Dijkstra is evangelical about garment care: so much so, when she encountered a woman on the street in one of her pieces not properly kept, she took it from her and washed it herself.
The basics are these: cashmere likes water, Dijkstra says, so each piece should be washed regularly on a cool wash (30 degrees centigrade with cashmere detergent or baby shampoo). These washes should never contain more than three items per cycle; each one should be protected with a pillowcase or garment bag. As above, they should be dried flat on a towel, then ironed – this helps straighten the fibres – before, if needed, being brushed with a cashmere comb. If you do this, she says, the pieces will feel new every time – Extreme Cashmere's collections are made to last.
Late in the day, Dijkstra returns to her office with Jules ten Velde, a member of the design team. They only have until the next day to select the colour palette for the upcoming season (quantities of cashmere must be dyed in advance; Extreme Cashmere utilises the more expensive longer fibres which are more durable and less likely to pill). A photo book of photographs taken in 1990s Amsterdam super clubs lies open for inspiration; the pair shuffle the various swatches around, often in silence, occasionally debating a certain colour's merit. After 20 minutes or so, they think they have decided, though they admit it might have changed by morning. 'We do everything by instinct,' says Dijkstra.
Despite the company's growing success – Extreme Cashmere has now passed over $10 million in sales – Dijkstra still works on intuition and says that the company is not run in a 'traditional' way. She rarely gives interviews, or seeks press coverage. She will never give clothing to influencers, though she is generous with gifts to friends, who she hopes will spread what the label is about by word of mouth (an easy ask: wear one of the label's sweaters, and you will likely be asked where it's from several times in the span of a day). She doesn't use spreadsheets (apart from cash flow). Each week, she sits down with her team, from 4pm until late. 'It's about: where are we? How are we doing? But in a very relaxed way.'
'I want to do well because I love it,' she says when asked if she considers herself ambitious. 'But it has to feel natural, in some sort of way effortless – not totally effortless, because sometimes these girls work like madmen. But there has to be flow. You should not push. If you're pushing, it's not going to work anyway.'
A similar philosophy permeates the clothing itself. Dijkstra often talks about wanting to create the item of clothing you wear on your worst day; a piece that requires no effort, but will lift your mood (if you are having trouble selecting between two pieces to purchase, she will ask you which one you would pick up when you've had no sleep).
'I want everybody to have a sweater that when you put it on, you just feel perfect,' she smiles. 'I want to make the best sweater. That's why we're here.'
INFORMATION
Jack Moss is the Fashion Features Editor at Wallpaper*. Having previously held roles at 10, 10 Men and AnOther magazines, he joined the team in 2022. His work has a particular focus on the moments where fashion and style intersect with other creative disciplines – among them art and design – as well as championing a new generation of international talent and profiling the industry's leading figures and brands.