In conversation: Graphic artist Adoor Yeh and photographer Dima Hohlov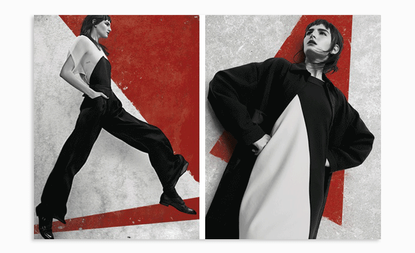 (Image credit: Dima Hohlov)
For our March Style Special issue (W*168) Wallpaper* commissioned graphic artist Adoor Yeh and photographer Dima Hohlov to bring to life a fashion shoot that celebrated the straightforward art of dressing in black and white. The results, 'Monochrome', were a minimalist's dream - the bold lines and shapes of Yeh's artwork inspired by the Russian Constructivist posters of old.

Yeh, a Taiwanese-born digital artist, studied art and design at Yuan-Ze University in Taiwan before moving to London where she is now based. Her multi-disciplinary body of work includes digital media projects such as graphic design, web design and manga. She also engages in art projects such as installation and performance art - in 2012 Ye put on a solo exhibition entitled 'Island Portrait' in Taipei. Meanwhile Hohlov, a London-based Latvian who cut his fashion photographer teeth in New York, spent time assisting Steven Meisel, and has since shot for the likes of Interview Magazine, Vogue China, The Sunday Times Style, Elle and Esquire.

You'll need to turn to the March issue for the full feature, but here at Wallpaper.com we grabbed a few minutes with Yeh and Hohlov, post-shoot, to discuss their work and collaborative vision.
How did your collaboration on the Black and White story come about?
AY: Isabelle Kountoure (W* fashion director) mentioned to Dima that she'd been to Vienna where she saw these Russian Constructivist posters and had the idea of doing a shoot around this theme. When he mentioned the concept to me I thought, 'Hey, that's a lot like Bauhaus, or Dada'. We immediately did loads of research and tried to hone in on the concept that way.
How did you start collaborating?
AY: We probably wouldn't have started collaborating had we not lived together! Basically Dima and I know each other through my sister, who is his wife.
DH: It was very fortuitous that my wife and I were moving to London (from New York) and we discovered that Adoor was moving over from Taipei too. I've always been intrigued by Adoor's work because I knew she was a graphic artist and did web design.
AY: The ideas for the 'Monochrome' shoot came about in the usual style that we work - very organically - our ideas happen around the dinner table. We're not the sort to sit down and go, 'Okay, let's do a big brainstorm now'.
DH: Yes, a lot of the time my wife, Adoor and I will be sitting round the table, just having a conversation about upcoming shoots, and that's how the ideas grow.
Describe your working styles…
DH: We have very different working styles. I come from New York where nothing ever stops, and Adoor is from Taiwan where it's a lot more relaxed. But as long as we meet deadlines, I don't really mind.
Do you think the results would be different if you were working on the same story separately?
DH: Oh yes, definitely. Adoor brings a different perspective. Especially in the re-touching process, when she'll play around with an image for ages trying different treatments.
Are there any future collaborations in the pipeline?
AY: Since the 'Monochrome' shoot, we've worked on a number of projects together. We've done a shoot for Russian Interview magazine where the models are all photographed in a sort of kaleidescope. Dima photographed the model and the sky separately, then I retouched the image to make it look fragmented.
What would be your dream collaboration with each other?
DH: I'd like to work with moving image. Adoor does a lot of manga illustration, so maybe a manga-style shoot.
AY: I'm doing quite a bit of research into storyboards, so I'd love to do something like that.
Receive our daily digest of inspiration, escapism and design stories from around the world direct to your inbox