'Heavy Petal' shoot: fashion editor Ursula Geisselmann's mood board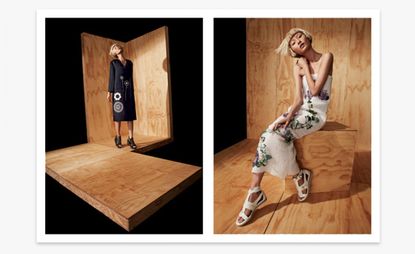 (Image credit: GEORGE HARVEY)
My inspiration for this story came after seeing how designers had interpreted florals this season. I noticed that, as well as the usual shapes and colours, there were more graphic and minimalist florals, which reminded me of Japanese art during the Edo period and the influence of the samurai elite and its culture.
During the Edo period (1615-1868), Japan was ruled by the military classes. Their ideals were virtue and loyalty, as well as the canons of Zen Buddhism. These ideals gave rise to a new aesthetic, rooted in the beliefs of fastidiousness, simplicity and the beauty of the evanescence of time.
The term wabi-sabi best describes the art of the period. Originally meaning 'lonely', 'sad' and 'withered', it came to define the complex set of aesthetic values that saw beauty in the rustic, imperfect and worn down by time. This gave rise highly ritualised pursuits such as tea and incense ceremonies, poetry and Noh theatre and all the arts that surrounded these.
Rinpa (opens in new tab), an artistic style created in Kyoto around the 17th century by Hon'ami Koetsu and Tawaraya Sotatsu, and consolidated by brothers Korin and Kenzan Ogata later on, was rooted in the same aesthetic principles, centred around the melancholy and ephemeral beauty of nature and the seasons.
Rinpa artists used these in exciting new ways by extracting elements such as flowers and other motifs and arranging them in groups and placing them on empty backgrounds (gold and silver were used widely) to give a sense of dynamism and vitality. It is this use of motifs as graphic, decorative elements that I wanted to look at. Contemporary designers have used these types of floral patterns on prints, cut-out shapes, embroidery or appliqués.
Jack Moss is the Fashion Features Editor at Wallpaper*. Having previously held roles at 10, 10 Men and AnOther magazines, he joined the team in 2022. His work has a particular focus on the moments where fashion and style intersect with other creative disciplines – among them art and design – as well as championing a new generation of international talent and profiling the industry's leading figures and brands.