Head to toe: Marco Zanini makes a shoe-in with a capsule clothing collection for Santoni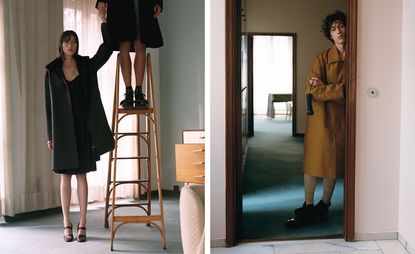 (Image credit: santonishoes.com)
Restrained, quiet beginnings for new fashion ventures aren't exactly de rigueur in 2017, but Italian designer Marco Zanini isn't in the mood for frills and flashy statements. After years spent at the helm of Rochas and Schiaparelli, he orchestrated a most unexpected return to the fashion system this February via Santoni Edited, a 15-piece ready to wear capsule collection for Milanese shoe label Santoni (opens in new tab), of which most pieces came scrunched, rolled, and tied up as fabric sculptures in an intimate salon presentation in Milan.

'I met Mr Santoni through a mutual friend and he expressed the same wish, through different words, to take the excellence in shoes (which is the soul of his company) and apply it to other categories,' explains Zanini. 'In my time off I felt, and I still feel, that fashion is reaching a turning point – and we still don't know what is around the corner,' he adds, musing (like all of us) on fashion's dubious state of affairs. 'The turnover of creative directors, editors in chief, and CEOs signals panic, and the industry is moving forward without knowing exactly what's wrong. This was an unusual project for me and this is the reason that I like it. They gave me creative license (which is uncommon) and it really feels good.'

That creative license has translated into supremely covetable outerwear, knitwear and shoes with ultra-luxe fabrications (shaved beaver, glove-like crocodile, and reversible alpaca all feature) in a colour palette that oozes the kind of sophistication that only a clever clash of typically masculine shades and acidic pastels can bring. Zanini's chromatic prowess has always been a calling card; here it excels in the heady mix of chartreuse, taupe, and toffee browns, bright turquoise, candy floss and blush pinks, or pops of lemon yellow that elevate both the polished façade and quirky piped linings of his designs.

'The collection is 50% men's and women's. Because of my background, people are curious to see the womenswear but I am more excited to work on menswear as I have never properly done it before. And you only have seven styles for women and eight for men so each one needs to be special,' says Zanini.
'That is what made it into an exercise in working on classic staples like a blue men's caban: the fabric is actually a wool silk couture fabric. The womenswear is not girly at all, it is outerwear and knitwear – it is full of secret pockets and functional details. A beautiful double-breasted camel coat has internal pockets in turquoise nylon. It is nice to be more precise, instead of working on a crazy flamboyant narrative for a huge show in Paris. We will expand for Spring, maybe a few dresses, a shirt. The method is more quiet and more Milanese, like the accompanying book we made.'

More than just any look book, the limited edition, fabric-bound tome in question is an atmospheric and architectural ode to the city of Milan, shot in and around an untouched Osvaldo Borsani villa by London-based duo Tim Hill and James Finnigan, who work under the moniker Hill & Aubrey, and whose debut shoot for Wallpaper* featured as part of our March 2017 Style Special issue (W*216) (opens in new tab).

In collaboration with POMO art direction studio and journalist Angelo Flaccavento, it's an example of the kind of sophisticated printed matter merited by such sophisticated clothes – neither one compensating for the other, but celebrating a holistic appreciation for the finer things in life. 'I see many products today that are so in your face, so this project is like a happy little island for me,' says Zanini. 'I can keep one foot in fashion and one foot in tradition, which is a balance I find most refreshing.'
INFORMATION
For more information, visit the Santoni website (opens in new tab)