Japanese brand Goldwin 0 blends technological innovation and unconventional design
An offshoot of cult Japanese performance-wear label Goldwin, 'experimental platform' Goldwin 0 aims to create zero-waste clothing in perfect balance between form and function through a network of global collaborators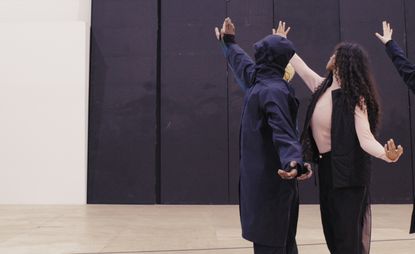 (Image credit: Goldwin 0 & OK-RM)
How, exactly, to describe Goldwin 0? As the accompanying notes put it, Goldwin 0 is a 'project', a 'pursuit', an 'experimental platform' – enigmatic descriptors for the conceptual offshoot of cult 1950-founded Japanese clothing label Goldwin, best known for its technical ski- and performance-wear. Enter Goldwin 0's website, and you will be greeted with a near-universally black screen, the only link leading to a short film: lingering shots of misty forests and empty factories, flashing mathematical drawings, slow-motion bodies in movement, close-ups of hands weaving branches into sculptures.

These disparate images serve as clues to the origins of Goldwin 0, which at its simplest is an experimental fashion label, first announced last month as part of Tokyo Fashion Week. Envisaged in part by London-based design studio OK-RM – who are the project's creative directors (though they note they see this as an 'amorphous and expansive term') the project will see the formation of a collection of clothing that builds on Goldwin's performance-wear roots, with a focus on technological and material innovation. Thematic elements, which are wide-ranging, include a 'pursuit of unity' between art and science, the natural world, ritual behaviours, mindfulness, and 'zero impact' sustainable design. 'It is a model for how creativity, practice and communication can work together,' says OK-RM. 'One thing that is particularly of note is that this model is not static but ongoing. It is an inquiry.'
Goldwin 0 is also collaborative: tasked with design are Julia Rodowicz, a veteran designer who spent close to a decade at Balenciaga and will focus here primarily on knitwear, and Jean-Luc Ambridge, a newer name who studied Design at London's Goldsmiths University (he gained recognition online for his work on 3D software CLO, where he would digitally create clothing which was then exported to a laser cutter to create physical pattern pieces). Brought together by Goldwin's Natsuko Koike and Taro Motoda, they had not met before the project; both note that their backgrounds are 'very different', but that these varying approaches complement each other in the collection itself. 'The design process is very organic,' says Rodowicz. 'We function like a collective and the product is a result of many team members sharing their experiences and expectations towards clothes.' At the heart of this is a balance between 'form and function', as she notes, 'a harmony between all components and aspects'.

The desire is to design clothing that can battle the elements – whether the demands of urban living or the more adventurous pursuits on which Goldwin was first founded – and last in a person's wardrobe for years to come. Rodowicz calls the design 'understated and timeless', creating products that 'will live beyond ephemeral trends'. As such, the collection focuses on the staples of performance-wear with a technological flourish: clean-lined packable parka jackets crafted using 'ultrasonic welding' for near-unrivalled lightness, completely seamless knitwear made using Japanese zero-waste WholeGarment technology, padded gilets, technical trousers, face-enveloping balaclavas. Many of these innovations are funnelled through the Goldwin development lab in Toyama, a historic city 200 miles northwest of Tokyo.

The design itself – the cut of a garment, its silhouette – is approached with a more abstract eye, and is certainly not typical outdoors-wear (indeed, the collection can be equally appreciated by those who do not plan to utilise Goldwin 0's element-protecting qualities). 'I try to use more unconventional and ergonomic cuts and detailing,' says Ambridge of his approach, which marries the hallmarks of technical wear with an undefinable strangeness in colour and cut (one of his own designs, posted on his Instagram account, zips over the face to completely conceal the body). 'As the development process continues I want to see how these cuts and details work together in a more visually appealing way that also complements the human body, to make sure that everything makes sense in both a functional and visual sense.' Both Ambridge and Rodowicz say they have been inspired by pieces in Goldwin's archive – whether a Nordic-jacquard ski sweater from the 1960s or a contemporary Gore-Tex jacket from 2021.
Sustainability is also a key facet of the project, with Goldwin 0 aiming – as its name suggests – for clothing that will make zero impact on the natural world. All fabrics are recycled, organic, compostable and cruelty-free (some sound direct from science fiction, like 'spiber', a brewed protein fibre developed for its incredibly low water usage). Products are designed using 3D technology to eliminate sample waste. Those who purchase Goldwin 0 will be able to have their garments fixed and repaired free of charge. Plans are in place to be able to recycle garments when they come to the end of their life cycle. 'The aim is zero waste, which at the moment is almost impossible,' says Ambridge. 'But the idea is to strive to be as close as we can. I think it's about more than just the clothing, it's about having an entire system in place.'

It all circles around what Goldwin 0 calls the 'essence of infinity' – nothing is too much, nor too little. Pieces can be mended, passed on, and given a second life. One day they will be able to compost into the ground or be recycled into something new. And the project itself, as the designers note, is ongoing, unrestrained from the usual fashion seasons. 'There is no finite conclusion to the project,' says Ambridge. 'Which only leaves the infinite'.
INFORMATION
goldwin-sports.com/0 (opens in new tab)
Jack Moss is the Fashion Features Editor at Wallpaper*. Having previously held roles at 10, 10 Men and AnOther magazines, he joined the team in 2022. His work has a particular focus on the moments where fashion and style intersect with other creative disciplines – among them art and design – as well as championing a new generation of international talent and profiling the industry's leading figures and brands.