Gareth Pugh celebrates his 10th anniversary with a return to London Fashion Week and a new exhibition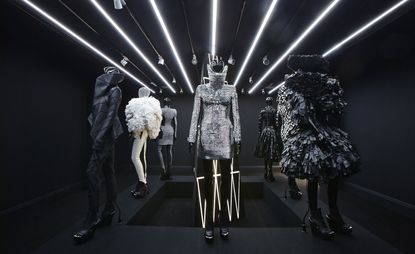 (Image credit: Galeria Melissa)
From a squat in Peckham to the runways of London, Paris and New York: Gareth Pugh has come a long way since he first started out in the business of fashion 10 years ago, stirring imaginations and order books with his wildly conceptual creations that are celebrated in a new London exhibition.

The retrospective has sparked a walk down memory lane for the British designer that has shown abroad for the past eight years. His first studio-cum-squat in South London (before the neighborhood first started seeing signs of gentrification) was one half of a fully equipped gym - complete with sauna, dance studio, treadmill and sunbed. 'I slept on the sunbed when I needed to in the run up to my first show,' says Pugh. 'It was a huge space, but had terrible heating, and the sunbed was the warmest place there was, which is why I probably looked so healthy in the pictures; I was very tanned but very, very tired.'

From those modest beginnings, the designer spun a monochrome fantasy world into sculptural theatricality disguised as clothes - or visa versa. Padded hips, Elizabethan ruffs, leather, PVC, fur, tulle, Lycra full-body leotards, opera coats, silver foil dresses, cyber bike gangs, spikey laser-cut petals, and dysmorphic silhouettes are all part of his repertoire, which rarely veers away from a palette of black, white, grey and precious metals. He describes his singular aesthetic simply as 'modern armour'.

This February, the designer will make a return to London Fashion Week, after a lengthy hiatus, during which he has shown in Paris and, last season, in New York. 'London is where I live and work,' he says. 'I've been here full time since I moved down from Sunderland in 2000, so it's always been an important part of me and of what I do. Coming back here to show made total sense - it's where everything began for me.'

To officially kick off his 10th anniversary, the designer has art directed a retrospective exhibition of his designs, featuring major archive looks, at the Galeria Melissa in London's Covent Garden. Pugh's will be the first installation in the footwear brand's gallery space - he has collaborated with Melissa since his second LFW show. 'When we knew we were returning to show in London this season, we contacted Melissa… and [an exhibition] seemed like a fun idea.'

Of course, this is not his first time in the installation limelight. In 2007, the year after his first solo LFW show, Pugh presented his work as part of the Victoria & Albert Museum's 'Fashion In Motion' showcase. In 2008, his work appeared in 'Superheroes: Fashion and Fantasy at The Costume Institute' at The Met in New York. That same year he won the ANDAM Fashion Award, netting him €150,000 and a show in Paris. In September, he presented his first show in the fashion capital, followed by his first menswear show in Paris in January 2009.

'It hasn't been easy, but nothing of value is ever won without sacrifice - ten years is a massive chunk of my life. Giving up was never an option,' he says of the milestone. 'I've had the opportunity to do such amazing things and I've worked hard to maintain the original point: to do something singular and compelling.' Stay tuned for his London Fashion Week return at the Victoria & Albert Museum later this month.
ADDRESS
Galeria Melissa
43 King Street
WC2E 8JY
London