Kansai Yamamoto makes a return to the London catwalk at the V&A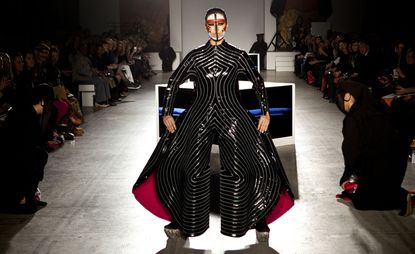 (Image credit: Kansai Yamamoto )
The name Yamamoto may be a familiar one in the fashion world, but alongside Yohji, there's also Kansai (no relation), who's widely regarded as one of the founding fathers of contemporary Japanese fashion.

Some 42 years since the 69 year-old last presented in London (he's credited with being the first Japanese designer to stage a show in England), on Friday Yamamoto made his runway return as part of the Victoria and Albert Museum's 'Fashion in Motion' series. The invitation came after several of Yamamoto's most iconic looks starred in this year's sell-out David Bowie exhibition. The task: to produce four catwalk shows, open to the public for one-day-only.

Yamamoto masterminded many of the stage costumes Bowie wore during his 1973 Aladdin Sane tour, after first flying to New York to meet the artist at his Radio City Music Hall show, having learned that the performer was already wearing his womenswear line. Decades on, a recreation of Bowie's famed black striped bodysuit opened the V&A show, which used Yamamoto's favoured 'hikinuki', or quick change technique to theatrically reveal layers of clothing during his performances.

Best known for his kaleidoscopic use of colour during the 1970s and 80s, the Gifu-based creative's work sits in stark contrast to the deconstructionist Japanese designers that would later follow him to Paris – Yohji and Rei Kawakubo included. Inspired by the vibrant art of Japan's Momoyama period (1573-1615) and traditional Kabuki theatre, Yamamoto's avant garde catwalk collections, segwayed into what became known as his 'super show' spectaculars after his last traditional runway presentation in 1992.
Likened to Cirque du Soleil meets an Olympic opening ceremony showcase in both scale and dramatics, the extravaganzas started in Moscow's Red Square in 1993, and later travelled to Vietnam and India, before heading home to Japan in 2000. What Yamamoto presented within the V&A's significantly more contained Raphael Gallery was a scaled down version of this arena-style phenomenon, with digital imagery from these performances instead offered up as a modest backdrop.

Celebrated for his enthusiastic remix of Manga illustrations, billowing kimono silhouettes and draped samurai pants, Yamamoto's latest runway redux was set to a New Age meditative soundtrack, amplified by a live trumpeter and percussive drums. He similarly toyed with a rebellious street vibe, illustrating the East meets West collision that first won him fans in Europe, seen through his artfully slashed tees, tattoo-inspired dragon appliqués and myriad camouflage prints (often entirely sequined to ramp up the exhibitionist factor). These were presented alongside his utopian view of the modern family unit – complete with rainbow hued stroller.
The collective result was an entirely unique fashion experience summed up by the show's Hokusai-inspired 'Great Wave' finale gown, its bodice fused with an iPad tablet, imagined by a creative who's famous for uniting the past with the future.

And to that extent, Yamamoto's next project will continue to break new ground. The designer plans to design his first house – launching in the summer of 2014 – with adventurous architecture and audacious interiors no doubt included in the mix.