Folk creates working wardrobe for Architectural Association's Hooke Park team
'I love the outdoors and I am away hiking whenever I can; I brought a little of that world into this collection,' says Folk founder Cathal Mcateer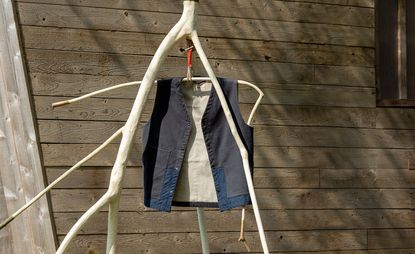 (Image credit: Jethro Marshall )
London-based clothing brand Folk's unique collaboration with the Architectural Association (AA) honours design and nature, inspired by the AA's woodland campus, Hooke Park, in Dorset, south-west England. The 142-hectare working forest has been owned and operated by the AA since 2002 and encourages a growing educational environment focused on landscape and sustainable design.
The collaboration took shape with the idea of providing the team at Hooke Park with a fit-for-purpose working wardrobe, which was as appropriate in the workshop as in the forest – apparel for the adventure of designing and making. 'From our visits, we were able to watch and learn about how the team at Hooke Park go about their daily lives,' says Folk founder Cathal Mcateer. 'They needed versatile, good-looking garments that can be layered up and thrown off.' The concept of sustainable making is a common thread that links Folk with Hooke Park. The clothing range itself is utilitarian in form, but enriched with the fabrication quality and attention to detail typical of Folk's contemporary casualwear.
Folk and Hooke Park: 'versatile, good-looking garments'
The diverse range is not only sustainable and stylish but is also equipped to keep Hooke Park's team warm and cosy during the colder season. The collection's rich forest colour palette of deep pine greens, warm ochres, blond stone and matt charcoal nods to autumnal woodland scenes.
The 'Signal Fleece' features two-way zips, reinforced panels at stress points, and red trims. The wadded 'Reversible Liner', with Japanese brush-cotton check on one face and recycled nylon shell on the other, allows for those suddenly changing weather patterns. Knitwear is made in wool and organic cotton mixed with contrast-colour yarns, and clothing uses organic and Better Cotton Initiative-certified cottons, recycled nylon, and employs remnant textiles and sustainable trims.
'The Architectural Association sources all its timber from the Hooke Park woodland, and works with it and uses it on site. It's a wonderful benchmark of sustainable, progressive design and making,' says Mcateer.
INFORMATION
The collection is now available at Folk's Redchurch Street boutique, London. The Glasgow launch event will take place during COP26 on 4 November 2021
folkclothing.com (opens in new tab)
hookepark.aaschool.ac.uk (opens in new tab)